Seydu - Sadaka (Fol Música , 2016)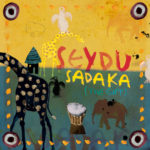 Here in Fol Música we work everyday to give every voice and type of music in the world the chance to be heard. This time we travel to western Africa, to Sierra Leone with SADAKA (THE GIFT), the latest album released by the great Sierra Leonean musician SEYDU. SADAKA means THE GIFT in Krio, the lingua franca from Sierra Leone, Seydu's country of origin. This country was one of the focal points of the slave trade in the eighteenth century and has also suffered a diamond war, a civil war and an Ebola epidemic. In Sadaka, Seydu´s third album, he continues the tradition of the Fulha troubadours and keeps "Palm Wine Music" or "Maringa" alive, the original music from Sierra Leone and Liberia. He is now considered the successor of artists like Ebenezer, Calendar & His Maringa Band and S.E. Rogie.
SEYDU grew up listening to his mother singing, a mix of fullah and mandinga, and absorbing the rhythms coming from his grandfather banging the skins of the drums, experiences that became strong influences to define his musical identity. His life has been a real odyssey; he escaped the war at a very young age in a small boat and arrived at the Canary Islands as an illegal immigrant, but thanks to his talent and generous heart he managed to find his own place in the European and Spanish world music scene, playing with renowned musicians such as Kiko Veneno, Yossou N´Dour, Mariem Hassan or Cesaría Evora, and becoming one of the bests percussionists in our country.
Vocalist, songwriter, percussionist and luthier, was born in Freetown, Sierra Leone, in a family of musicians. He grew up listening to the songs of his mother, mix Fullah and Mandingo, and assimilating the rhythms that his grandfather played on the drums, experiences that have marked his musical identity. From an early age Seydu was an integrant of the " Sierraleonean National Dance Troupe ", founded by his grandfather. With this troupe he traveled to Nigeria where he lived in the commune of Fela Kuti. At the age of 20 he moved to Spain, where he studied music and formed different bands of jazz, afro, latin, reggae, etc. He played with great artists like: Stevie Wonder (in Spain) Alejandro Sanz, Kiko Veneno, Auserón Santiago, Miguel Bosé, Rosario Flores, Ketama, Serrat, Kepa Junkera, Youssou N'Dour, Lokua Kanza, etc. Seydu founded the NGO "Diamond Child School of arts & culture" in 2005 to provide an opportunity for disadvantaged children and youth in his country. Seydu's new album "Sadaka (The gift)" was conceived as the fruit of gratitude to the great life experience lived in Diamond Child School. "Sadaka" is a reflexion of give and receive.
syedu.net and Fól musica