Janne Schra - OK (Schradinova - AntiFragile Music, 2018)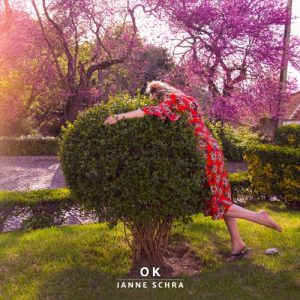 Whether Janne was looking over the Mississippi, sitting on a beach surrounded by birds of paradise, or driving through Shanghai, there was always that longing for new horizons. This restlessness and desire for change have found their way into new songs. Songs about a club in Sydney, planets, and alpha-males. About birds and driving to Paris in your first car. Songs about crying and saying goodbye, about getting drunk in New Orleans and other forms of escape.
These songs have slowly been growing and forming together with her band in a little house in the countryside for over two years. They have picked up the thread where PONZO ended: catching in musical terms that liberating feeling of traveling to a far-off corner of the earth, but also experiencing that warm nostalgia of remembering a familiar past. "Everything will be OK in the end, and if it's not OK, it's not the end.", so goes the saying.
The stormy period is over, and everything is OK. Janne lives in Amsterdam, and on an old warehouse close by, someone wrote: "You have reached your destination"
After Room Eleven and Schradinova, Janne made two solo albums and has collaborated with various artists like M.Ward, Kraak & Smaak and Sister Bliss. Janne has toured around the world from Montréal to Johannesburg, from Amsterdam to Tokyo. She earned gold and platinum albums, received a Silver Harp, and her last record PONZO ('15) was nominated for an Edison and a 3voor12 Award. So far so good! Time for her latest gem: 'OK'!
More at: www.janneschra.com