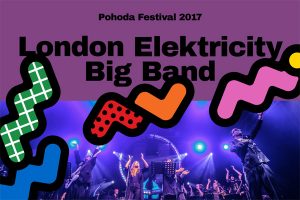 London Elektricity will perform at Pohoda 2017 twice: as Big Band and as a DJ set. This project of Tony Colman, the pioneer of the Drum & Bass genre and a co-founder and chief of Hospital Records, is also referred to as fast soul music, thanks to the spectacular delivery by the 22-member big band that included names such as MC Dynamite (Reprazent) and the winner of the BBC Jazz Awards Lianne Carrol, which brings D&B to a whole new level. The second concert of London Elektricity, the DJ set, will be one of three Tony's appearances in this form in 2017.
Tony Colman fell for drum&bass in the mid-90s. A varied mix of musicians that influenced him includes names such as Talking Heads, Fela Kuti, Kraftwerk, Brian Eno, Led Zeppelin, and a mixture of genres well beyond the limits of electronic music (jazz, funk, soul, dub, rock, punk…). In 1996, he and Chris Goss founded the publishing house Hospital Records, under which has released the munsic of names such as Danny Byrd, Camo & Krooked, Logistics, Nu: Tone, Metrik, Fred V & Grafix, S.P.Y, and B-Complex.
In the second half of the nineties, Colman a Goss started London Elektricity (originally as a duo). They became popular with their song :Song In The Key Of Knife:. In 1999, they released debut Pull the Plug. Many live musicians and jazz singer Liane Caroll participated in the album, however, it was mainly a studio work of the duo Colman Goss. In 2002, Goss left LE to fully focus on publishing. The second album Billion Dollar Gravy was issued by Colman in 2003. Its recording was increasingly involving more and more other musicians, so Colman decided to turn the project into a live band that included, besides him, also Andy Waterworth, Landslide, MC Wrec, the Jungle Drummer, Liane Carroll, and Robert Owens.
Shortly after the release of the third album Power Ballads (2005), Colman started playing solo as a DJ under the name "London Elektricity". In 2007, he was awarded the BBC 1Xtra Xtra Bass Award for the best live act. The following year, he released the fourth album Syncopated City. His fifth album Yikes! was released in 2011 and was followed by so far the latest album Are We There Yet? in November 2015. The new formation will feature the 12-member brass section of the band Riot Jazz, the legendary jazz singer Liane Carroll, vocalist Emer Dineen, MC Dynamite, keyboards, percussion section, and Tony Colman with bass. Regarding the DJ set, we may add that Tony plays exclusively vinyl discs and exclusively great music. He will prove that at the beginning of July in SLSP Space arena.
Pohoda in more selections of the best festivals in the world
Portal Gigwise ranked Pohoda among the 37 best European festivals. Even more than the nomination itself, we enjoyed the words they used to describe our festival in their selection: "This is a utopia. The food is flavoursome, diverse, huge in portion and massively cheap and this level of dignity applies to just about every aspect of life at Pohoda. The people are warm, friendly, and yobbish behaviour ceases to be a thing; free sunscreen there and tankers of drinking water everywhere. It's like they've been taken on board every little tedious thing about the big British festivals and made up for it. Line-up-wise it's as good as most of the top ones in Europe and it's far, far cheaper than anything in Western Europe." Here is the link to the full article: www.gigwise.com/features/109701/the-best-coolest-greatest-music-festivals-in-europe
In addition, we were included in the selection of the portal The Culture Tip in their article "Around the World in 60 Music Festivals". They ranked Pohoda in the On the Pulse category for people who do not primarily aim to see pop the stars but rather prefer more independent music: https://theculturetrip.com/north-america/usa/articles/around-the-world-in-60-music-festivals/?utm_source=direct_message&utm_medium=FOshare&utm_campaign=FOled_genre
Confirmed artists:
alt-J, M.I.A. Solange, Ylvis, Birdy, Jake Bugg, Boys Noize Live, Future Islands, Rodrigo y Gabriela, Benjamin Clementine, Slowdive, Squarepusher, London Elektricity Big Band, Mark Lanegan Band, Beardyman's Dream Team, Slaves,
The Thurston Moore Group, Austra, Sleaford Mods, Machinedrum, Dillon, Mykki Blanco, Beak>, Shobaleader One,
London Elektricity DJ Set, TOMM¥ €A$H, TaxiWars, Salut c'est cool, Black Box Revelation, Acid Arab, Alice Phoebe Lou, Baloji, Les Amazones d'Afrique, Idles, C Duncan, Ho99o9, Chiki liki tu-a, Polemic, Bolo nás jedenásť – Milan Lasica & friends, Bez Ladu a Skladu, Katarína Máliková, B-Complex, The Ills, Ghost of you, Kieslowski, Tolstoys and many others…