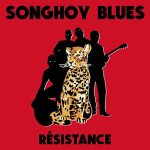 Released on Transgressive Records on Friday June 16th 2017, it's a bold, inspiring, outward-looking record that perfectly reflects the position the band have found themselves in following the massive success of their breakthrough debut, Music In Exile, released in 2015.
The track listing of the album is as follows:
Voter
Bamako
Sahara (featuring Iggy Pop)
Yersi Yadda
Hometown
Badji
Dabari
Ici Bas
Ir Ma Sobay
Mali Nord (featuring Elf Kid)
Alhakou
One Colour
The band have also recently unveiled Bamako, the first track to be taken from the album. With a lyrical refrain of "Il Ma Fata", which translates as "Let's Go Out", the track documents and celebrates the night-life of Bamako. Talking about the track, leader singer Aliou said:
With Bamako we just wanted to write something fun and positive about where we come from. So much of what people hear about Africa is negative, bad news stories about war and famine just dominate the common image of Africa. But this track is about dispelling that image by describing something everyone can relate to, going out on a Saturday night, to show that Africa isn't just what people see in the news, there's so much more to it than that.
The album was recorded in the autumn of 2016 at The Pool studio in London with producer Neil Comber (MIA, Django Django, Crystal Fighters, Declan McKenna) and in keeping with their spirit of collaboration which saw them previously work with Nick Zinner, Julian Casablancas and Damon Albarn, Resistance features additional synths by Lxury and vocal contributions from the likes of Iggy Pop, Elf Kid and Stealing Sheep. Beyond this, the album features beautiful string parts (Hometown) and in one particularly surprising, moving instance (One Colour), a children's choir.
Lyrically and sonically, Résistance is a huge leap forward for Songhoy Blues, a musical snapshot of a band at the top of their game. Richer, more eclectic and musically adventurous, it captures a band who, for the last three years, have toured the world and soaked up music far beyond the borders of their native Mali.
With more time and a wider armoury of equipment at their disposal, the album is the sound of Songhoy Blues stretching themselves, with hints of R&B, soul and hip-hop all fusing seamlessly with the band's trademark exuberant sound, with themes for our time.
Whereas their debut was lyrically rather parochial, dealing with the problems faced by the people of Mali, the new album is more universal in tone and speaks positively about their homeland, lovingly talking about the beauty of the Sahara and night-life in Bamako.
The band released their debut album, Music In Exile, in early 2015 receiving across the board praise, including a 5/5 rating in The Guardian who claimed, "they have all the makings of African-rock crossover heroes."
Post album release, the band continued their rapid ascent with a Q Awards 'Best New Band' nomination, an appearance on 'Later…with Jools Holland', a sold out London Roundhouse show, plus storming festival appearances over the summer, including memorable slots at Latitude, Green Man and the Pyramid Stage at Glastonbury, not to mention a wave of acclaim for They Will Have To Kill Us First: an award-winning film which told the story of Songhoy Blues and the struggle faced by musicians in Mali.
Résistance not so much continues the thrilling story of Songhoy Blues so far, as adds a whole new dimension altogether to one of the world's most important, rising bands.
Finally, having recently been announced as final headline act at this year's Summer Series at Somerset House in London, the band have also confirmed a couple of other festival shows this summer. Further dates will be announced shortly.
The full list of shows is as follows:
JUNE
14th
Paris La Maroquinerie [PIAS] Nites
24th -26th
Pilton Glastonbury Festival
25th
Kilrush, Ireland
Body & Soul Festival
JULY
7th
Amal (Sweden) Amal Bluesfest
8th
Liege Les Ardentes
13th
St Aubin Sur Mer Pete The Monkey Festival
15th
Paris Afropunk Festival
16th
London Somerset House
AUGUST
18th
Escot Park Beautiful Days Festival
19th
Stirling Doune The Rabbit Hole
SEPTEMBER
22nd
Liverpool Liverpool Festival Of Psychedelia
NOVEMBER
27th
Brighton Old Market
28th
Leeds Church Leeds
29th
Manchester Academy
DECEMBER
1st
Bristol Anson Rooms
Tony Duckworth