Dub Pistols - Crazy Diamonds (Sunday Best Recordings, 2017)
As they gear up to celebrate 20 years of unhinged lunacy, the Dub Pistols return with their seventh studio album, entitled 'Crazy Diamonds'.
One of the hardest working bands in show business, Barry Ashworth and his motley crew have added a much-needed swagger to the UK dance scene in recent years and new album 'Crazy Diamonds' finds the band at their uncontrollable, bass-driven best.
A rampant mix of dub, reggae, ska, punk, breaks, beats and drum 'n' bass, the album is a full-on dub-quaking extravaganza, built for big fields, summer sound systems and Shiiine On closing parties. It also happens to feature some of the biggest names in the game including Dancehall dons Beenie Man and Cutty Ranks, reggae singer Earl Sixteen, hip-hop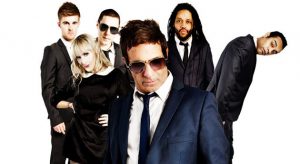 act Too Many T's, seminal MCs Navigator and the Ragga Twins, and long-time collaborator Lindy Layton.
Proudly working class as a band, the Dub Pistols have been tearing up venues and festivals throughout their career. Inspired by the Second Summer of Love, the band were founded by ubiquitous Londoner Barry Ashworth in 1996 and have been at the forefront of beats culture ever since.
Known for their rhythmical blend of bass, turntables and horns, their genre-mashing abilities has seen them work with some of their biggest heroes including The Specials, Horace Andy, Madness and Gregory Isaacs. They've also seen band members come and go, not to mention squander thousands on various capers that have now become legendary and that has taken them from the brink of multi-million-dollar international success to the edge of destruction and back again.
The band head to Shiiine this November with reputation as an explosive live act has seen them turn into super-tight festival regulars, headlining some of the biggest festivals in Europe including Glastonbury, Bestival and Beat-Herder. Their bass-driven live machine has seen them win numerous plaudits along the way and recent live guests have included vocalists Rodney P, The Specials' Terry Hall and Neville Staple, rap wünderkid T.K., Sugardaddy horn-blower Tim Hutton & scratch maestro, DJ Stix.
Foto: press