General Electriks - Carry No Ghosts (Wagram , 2018)
General Elektriks is the brainchild of Hervé Salters, a French national and vintage keyboard player. Salters was playing keys for his bands and for various artists in Paris (Femi Kuti, -M-, Vercoquin, DJ Mehdi, etc.) before he moved to San Francisco in 1999. He started working on funk collages as he was moving to the US, using his favorite keyboards, a computer and a mic. There, he hooked up with the Quannum Crew (Blackalicious, Lyrics Born, etc.) and started sessioning for them. He invited Quannum's own Lateef The Truthspeaker and Chief Xcel on a few tracks, then completed the 1st General Elektriks album, Cliquety Kliqk. Hailed by URB as "Ennio Morricone for the 21st century," the album is a far out mix of vintage funk, hip hop beats, noir riffs and pop melodies.
After touring behind the album, Salters joined Blackalicious in the studio to work on The Craft and toured with them for over a year. Concurrently, he formed San Francisco trio Honeycut with singer Bart Davenport and drummer/programmer Tony Sevener. Quannum Projects released their critically acclaimed 1st album, The Day I Turned To Glass, in 2006. As he was touring with Honeycut and laying keys down for more artists (Lifesavas, Curumin, Jel, the Mighty Underdogs, etc.…), Salters started working on a second General Elektriks effort. Good City For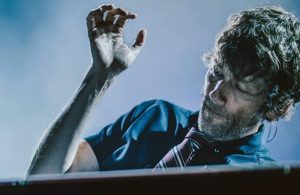 Dreamers was completed in the fall of 2008. On this album Hervé developed a more organic sound than on its predecessor, blending sampled/programmed drums, live keyboards, horns and strings in a more seamless fashion and putting them at the service of songs driven by his own vocal melodies. Released in 2009, Good City's funky brand of modern psychedelia was spearheaded by the single 'Raid The Radio' and led to an 18 months tour.
Salters used the downtime during the tour to co-produce L.A rapper Pigeon John's album Dragon Slayer and to get back together with his Honeycut counterparts to whip up a second effort, 'Comedians.' He also wrote and produced the soundtrack to a gangster TV miniseries for French network France 2, 'Les Beaux Mecs,' and did a string of remixes for the likes of Femi Kuti and Mayer Hawthorne. Hervé started working on a follow up to Good City For Dreamers during the winter of 2011. Written, arranged and produced in 4 months, Parker Street takes the baton where Good City left off and digs deeper into the organic future-Soul of its predecessor. Leaving programmed drums behind, Salters combines on this album the sonic aesthetics that come with tweaking in the lab with the radical dynamics that can only emanate from the live interpretations of musicians. Both lushly arranged and cutting, Parker Street brings forth an unapologetic mix of avant-funk, oldschool pop, raw jazz and hip hop aesthetics.
NMR (photo: Youtube)