Futuro Pelo - A Bigger Splash + Remixes (Pain Surprises Records, 2020)
Futuro Pelo is a project by a French musician named Benjamin Sportès. At the beginning of 2020 he released the album "A Bigger Splash" and at the end of the year also remixes.
Benjamin Sportès has been active on the music scene since the 1980s in the new "alternative" scene, he played whenever he could with his rockabilly group (The Wanderers) alongside other groups, such as Mano Negra, Wampas …
After several years spent in an art school in London, in the 90s, the jack-of-all-trades twist the cardboard and participate in the design of the sets for the youth tv show the Minikeums, he sings on his project Sportès staff and recorded an album with Eric Serra before discovering the possibilities offered by computer music.
He then launches absent-mindedly into a new electro duo entitled Sporto Kantès which still whistles to the ears of many today. Success. The adventure alongside Nicolas Kantorowicz, bassist of the Wampas, will last fifteen years and four albums.
In 2013, he turned the page for a period marked by questions about the future. The result is a total and momentary rejection of music and a profusion of penciled, scribbled, black, caustic, poetic drawings …
In 2016, it was music that took over when he decided to present his new solo project entitled Futuro Pelo (future hair for a man who no longer has it).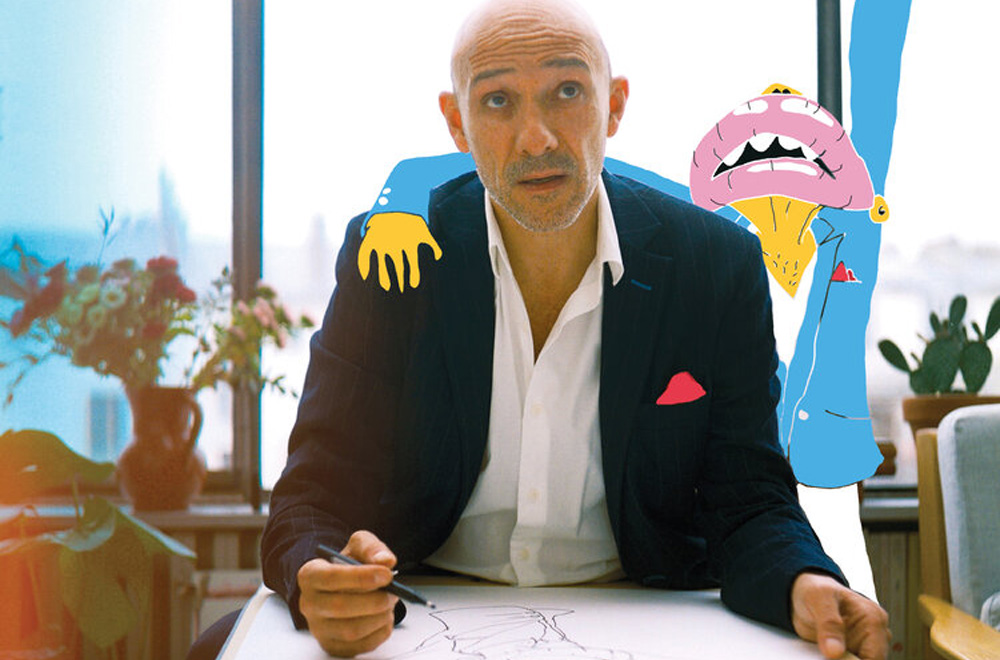 The Pain Surprises and Délicieuse Musique teams enthusiastically welcome this joyous mix of pop, texts sung in French, English, Spanish, and samples found by happy coincidence in the sounds of his personal collection which navigates between all extremes ( rockabilly, world, funk, modern pop, house…). Futuro Pelo compiles his science of pop and his findings in two successive EPs released in 2017 (Bluff) and 2018 (Eden).
The birth of Futuro Pelo is accompanied by that of Monsieur Bouche on the covers and music videos. Monsieur Bouche is the imaginary friend of Benjamin Sportès, his way of expressing in drawings what he cannot say orally.
In early 2020, A BIGGER SPLASH was released, in a nod to David Hockney and a leap forward allegory for the first album. With this title, Benjamin Sportès also materializes a leap into the void, the need to "say" things, to create less diversion and to be as close as possible to emotions. Twelve years of psychoanalysis at the rate of two sessions per week have most certainly guided him towards this.
NMR (photo: Florine Hill)