Imarhan - Temet (City Slang, 2018)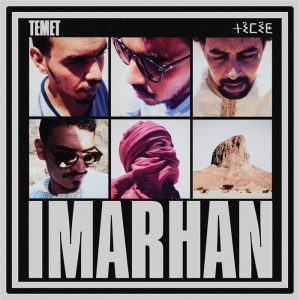 Imarhan have unveiled the video to Ehad Wa Dagh, the latest track to be taken from their forthcoming second album, Temet, which is released on City Slang on Friday February 23rd 2018.
The video, shot in a Parisian club and featuring images from the band's Saharan /Algerian home, was directed by "Visions Particulières", and reflects the contrasting lives of the band as their music takes them around the globe. "In the electric night of a world dividing men/mankind, desert is like the ultimate sun"
The band unveiled a live video for album track Tamudre at the end of last year. This was taken from Children Of Tam, a 1 hour documentary about the band directed by acclaimed independent film-maker Vincent Moon (www.vincentmoon.com) which will be premiered in February at the Clermont- Ferrand Film Festival.
The young 5-piece band from Tamanrasset in Southern Algeria, released their much-acclaimed, selftitled debut album in 2016 and subsequently toured the globe bringing their ecstatic live show to venues across Europe, the U.S. and China. Temet in Tamashek means "connections" and the album's an energetic wake up call for unity, reminding people that we are all are connected and that only through the acceptance and uptake of this union will we be able to solve the troubles all cultures seem to be dealing with in this important moment in time.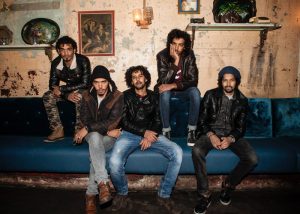 Recorded in Paris in early 2017 and produced by the band with help from Patrick Votan and Tinariwen's Eyadou Ag Leche, Temet marks a huge leap forward both creatively and artistically for a band who were heralded as one of the leading-lights of the 'new–wave of Tuareg music'. Now firmly established and regarded as torch-bearers by the new generation of musicians in Algeria and the Mali border area, the album sees them broadening their sound beyond the meditative desert blues of their debut to take in elements funk, disco and rock.
Growing up near each other in Tamanrasset, Southern Algeria, in a Tuareg community of Northern Malian descent, Imarhan formed at school in 2008 under the guidance of Tinariwen (Eyadou Ag Leche of Tinariwen is a cousin of frontman Sadam, and guided their evolution and produced and co-wrote several songs on their debut album). The band quickly gained acclaim for their effortless blend of the ancestral tamashek poetry and traditional rhythms of their elders and sounds which reflected their youth and urban up-bringing listening to music from around the globe. Having previously played European shows with Tinariwen, Kurt Vile, Songhoy Blues and Mdou Moctar and wowed festival audiences at the likes of End of the Road, WOMAD and Port Eliot, they return in March for a handful of European dates.
Photo: press Imarhan