Sabrina Malheiros - Clareia (Far Out Recordings , 2017)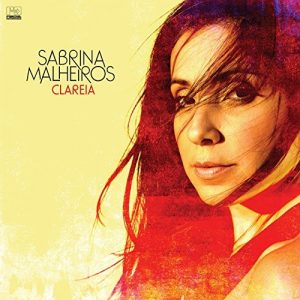 Having made her mark on Brazil's rich musical legacy with three best-selling albums to date, Rio's original nu-bossa queen returns with a tour de force of golden-era Brazilian soul music. From the spiritual swing of the early pioneers of modern Samba, to the dizzying hedonism of Brazil's eighties disco/boogie craze, Clareia is a life-affirming journey through the rich and varied sounds Sabrina Malheiros has been immersed in since she can remember. For her most up-lifting and danceable album to date, Sabrina has (as always) enlisted her father Alex Malheiros – bassist of samba jazz-funk legends Azymuth – and visionary London based producer Daniel Maunick (aka Dokta Venom), son of Incognito's Bluey.
Sabrina Malheiros' career has often been characterised by her place in the succession of those special Brazilian women who, with unmistakable talent and effortless grace, have encapsulated the magical energy of Brazil with their voices. "Elis Regina, Astrud Gilberto, and Joyce all had it, and SabrinaMalheiros has it in spades."(MOJO) With her debut album Equilibria in 2005, Sabrina arrived on a wave of instant acclaim, carving out her place as the pioneering voice of a new brand of Brazilian soul music, rooted in the traditions of samba and bossa, but with an edge of contemporary electronic sophistication. Sabrina's innovative nu-bossa sound would continue with the 2006 remix album 'Vibrasons' followed by sophomore 'New Morning' – declared the "best album of summer 2008"(Evening Standard), before 2011's best-seller Dreaming.
Six years on, Sabrina returns with Clareia. "It means to clear, light, brighten or illuminate, which, after seeing Brazil and the rest of the world go through some very difficult times, is exactly what the writing of this album brought to my life." All tracks are written by either Sabrina, or in collaboration with her father Alex Malheiros and producer Daniel Maunick. Written and recorded in Niteroi, Brazil, overlooking Gunabara Bay and Rio's beaches, mountains and forests, the music basks in its surroundings and sings of ecological beauty, peace and sanctuary. Echoing Sabrina's emphasis on clarity, Alex notes that "the album's title represents an appeal to the minds of our civilization today, to clear our thoughts for good and for peace."
This pursuit of clarity continued into the studio: "It took a little longer than usual" notes Sabrina, "which was good in way, as all my previous albums were recorded in rush and we usually had a week for pre-production and another week in the studio, which always gave me the feeling that I could do better. With this album it was different… we took our time."
Sabrina's unmistakable voice has never sounded better. Packed out with high-octane swinging samba-soul, like the title-track and 'Salve O Mar', the album also features some bottom-heavy Brazilian boogie cuts, like rejoicing album opener 'Celebrar' which harks back to some of Marcos Valle's cult '80s disco output, and 'Sol Ceu E Mar' is a Tania Maria-esque future classic of scorching latin-funk. Mellower moments are found in 'Em Paz', on which Sabrina's beguiling harmonies find an anchor in the rhythmic acoustic guitar of Ze Carlos', who Sabrina heralds as being "the best guitarist I have ever worked with". Azymuth's keyboardist Kiko Continentino's deft Rhodes, piano, organ and synth playing, add ever more textures of distinctly Brazilian brilliance throughout, while tropical brass and flute arrangements on cool bossa-jazz movers 'Vai Maria' and 'Sandore', come from Brazilian saxophone legend Leo Gandleman, a man who has worked with everyone from Gal Costa to Gilberto Gil. The rhythm section combines Daniel Maunick's seamless drum programming and the organic polyrhythms of Brazilian percussion legend Jakare, all punctuated by Alex Malheiros' inimitable (occasionally slapped) jazz-funk bass, giving the album its irresistibly danceable pulse.
Set for release at the height of summer this year, Clareia is an intergenerational masterclass of Brazil's soulful spectrum, led by a pioneering voice of today's scene on the very top of her game. The up-lifting compositions, which take inspiration from the stunning natural beauty amongst which the album was made, and the call for the clarity of mind needed to preserve it, are enriched by this special team of some of Brazil's most established musicians. Like the sun breaking through tropical storm-clouds, Clareia is a vessel of joy, as Sabrinaputs it simply, "I hope Clareia brightens the soul of whoever listens to it. That's the spirit of this album."