SALIF FEITA – UN AUTRE BLANC (NAIVE 2019)
For more than 50 years the Malian singer/songwriter Salif Keita has become the cornerstone of Afro-pop music, pumping out stellar recordings like Seydou Bathili (1982), Soro (1987), Amen (1981), Papa (1999), Moffou (2002), Folon…The Past (2010), Anthology (2011) and The Lost Album (2017). On February 15th, Mr. Keita will add another recording to his already considerable discography with the release of Un Autre Blanc on the Naive record label.
The title Un Autre Blanc or Another White is a reference to the trials and tribulations Mr. Keita has faced through his albinism – a condition thought to be a sign of bad luck or misfortune by his Mandinka culture. A glorious testament to his endurance and musical mastery, Mr. Keita embraces Un Autre Blanc, Dr. Cherif Keita, Mr. Keita's cousin and biographer, and a professor at Carleton College explains, "When some people sing, they create social change. Salif changed the old ways in Mali, our relationship to musicianship, to classifying people. Because of his condition, he had to latch on to what he could do to survive in a harsh environment in Bamako. Music became his salvation."
With a wealth of world tours, recordings and collaborations that include the likes of Carlos Santana, Joe Zawinul, Vernon Reid and Esperanza Spalding, Mr. Keita has proved the gold standard for fans around the world. With Un Autre Blanc, Mr. Keita prepares for retirement, but not before a final musical statement wrapped so tightly with his own identity as a persistent call for acceptance and an embrace for all of our differences, as well as a call for an end to conflict.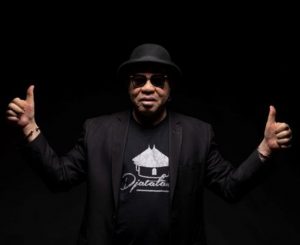 "I'm a white man with a deep black African soul, and I have accepted that. Now you have to accept that difference and that contrast," as Mr. Keita firmly puts it.
Opening with "Were Were," a tribute to monumental figures like Nelson Mandela, Desmond Tutu and Sekou Toure, Un Autre Blanc launches listeners into the riches of Mr. Keita's familiar vocals and musical joyfulness. Brimming over with guitars, kora, n'goni, keyboards, horns, balafon and sassy backing vocals Un Autre Blanc is a treat. If that weren't incentive enough to take a listen then maybe Angelique Kidjo and rap artist MHD appearing as guest artists on the raucous "Itarafo" might temp listeners. Nigerian singer Yemi Alade appears on sweetly worked "Diawara Fa."
Ladysmith Black Mambazo takes a turn on a wonderful track titled "Ngamale." Ivory Coast reggae star Alpha Blondy joins Mr. Keita in closing out the CD on the reggae goodness of "Mansa Fo la." Fans should also checkout tracks "Syrie," "Tonton" and Mr. Keita's tribute to the beauty of a Fula woman on "Bah Poulo." Un Autre Blanc is just another feather in Mr. Keita's hat and just as brilliant as the very first feather.
TJ Nelson + NMR (photo: Thomas Dorn)