Creole Afro-Futurists, Dowdelin champion the sounds of present day Caribbean on their divergent new work, Lanmou Lanmou which features a collaboration with Vaudou Game.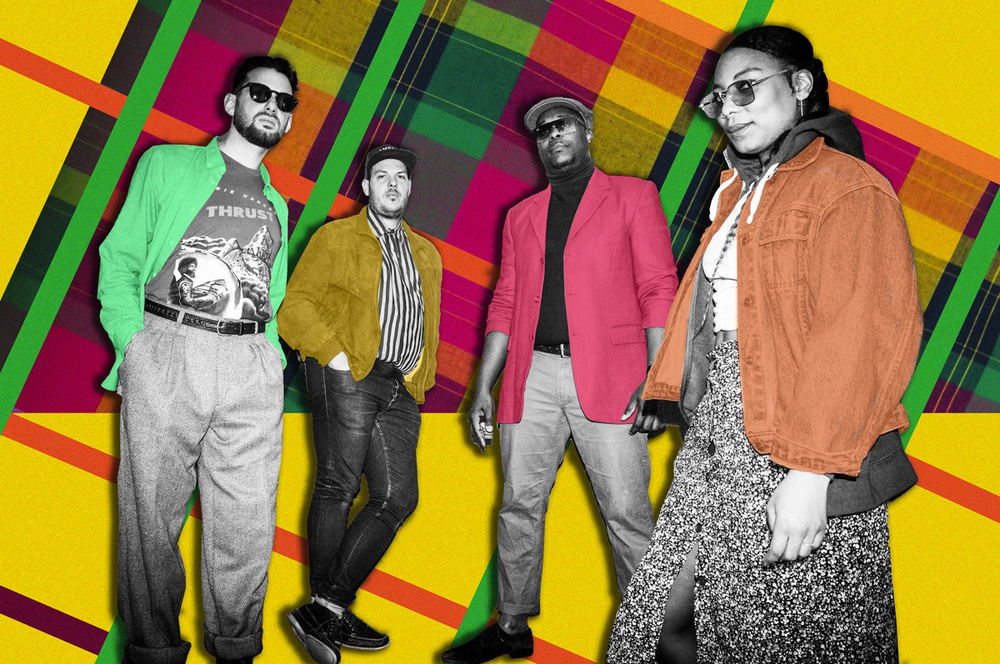 Channelling the spirits of Coltrane, Clinton, and Kendrick amplified via music from the French West Indies; gwo-ka, dancehall and biguine Dowdelin returned from their extensive touring in 2019 (including UK festivals WOMAD, Boomtown and Shambala)to refine their unique and self-styled brand of Kreyol (Creole) Afro-Futurism.
"Touring, performing live really shaped the sound of Lanmou Lanmou." explains David Kiledjian. "The first album, we were still figuring out our sound but here, everybody in the band understood their role and the kind of music we're dealing with. I think that is what made this record more alive, organic and danceable."
Derived from a Creole French play on the word, dodeliner (French) or dawdling (English), meaning slow and idle, Dowdelin's high impact and playful sound is, ironically, anything but slow and idle.
Co-founded by multi-instrumentalist /producer, David Kiledjian, Lyon-based singer / songwriter of Martinique origin, Olivya Victorin, Dowdelin formed as a basis for fusing their love of contemporary jazz, US R&B and neo-soul, but it was their connection to the music of Olivya's Caribbean heritage that truly set the wheels in motion. Kiledjian immersed himself in the music of the French Caribbean over 15 years ago, discovering Jacques Shwartz-Bart's Soné Ka La album and Max Cilla's La flûte des Mornes and since bonding over a love of Guadeloupean zouk stars, Kassav, posed the suggestion that Olivya sung in her native Creole French. The unifying of these styles immediately felt natural, as well as historically relevant.
"When we play, we represent the possibility of hearing the same melodies in traditional African music, as we do in music from the west today. To adopt the language of our roots and the global majority, with that of the country in which we live, is a reminder of the cultural hybrids that all of us are."
Joining the lineup shortly after was French-Guadalopean drummer, saxophonist and bandleader Raphaël Philibert (nephew of renowned musician Georges Troupé, founder and director of the Marcel Lollia Gwo Ka school in Guadeloupe) as well as former collaborator of Kiledijan, Greg Boudras.
Having performed with contemporary Guadeloupean jazz drummer, Sonny Troupé and drummer, Arnaud Dolmen, as well as leading his own Gwoka-jazz ensembles, Philibert brought the necessary faculty to propel Dowdelin's Creole Afro-Futurism to the next level.
Where Dowdelin's 2018 debut album Carnival Odyssey and 2019 EP Poul Wélélé were built on modern jazz, alt-pop, PC music-style glitch textures and Soulection-tipping, Lanmou Lanmou differs with pulsing Afro-Caribbean polyrhythms meets Creole jazz and future-funk grooves. Translating as "Love, Love" in Creole French, the album's title track opens proceedings, with Olivya's infectious hook intricately woven around tuned percussion and plush synth triplets.
Tan Nou is an example of music as resistance to oppression.
It's Caribbean swing and beguine jazz arrangement mixed with a compelling four-to-the-floor drums coupled with Olivya's lyrics "They caught our time (took our freedom) / we want to bang on drums" is a statement of Dowdelin's intent. The album's debut single Simé Love is an addictive foot shuffling call to "Spread Love!" and to find strength in our difference whilst Mama Wé (The ship that we ride) is an interplanetary, environmental voodoo lament on our treatment of earth, featuring ft. Kiledijan's studio-mate, Vaudou Game aka Peter Solo. Raphaël's laid-back hand percussion drives Yo Wé over Kiledijan's tenor sax and Olivya's dynamic voice ("They have seen that love has an end like a wave or the glow of a fading star / One must choose to nurture love, if it is to be renewed.") before future reggae classic, Somebody New and layered percussion & voice album closer On Nou Alé. Alive, organic & danceable indeed.
"This album was quite a journey but I'm so grateful we've taken the time to achieve the vision we had for this record! I think people are gonna feel the care we've put into crafting these songs and the positive vibe we're trying to bring."
Underdog Records (photo: press Dowdelin)