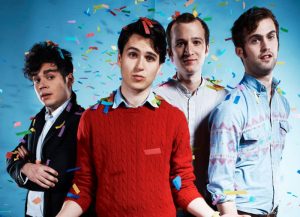 Appearing at End of The Road Festival in Dorset, the New York band, led by Ezra Koenig, performed a greatest hits set that spanned their three albums, from 2008's self-titled debut to 2010's 'Contra' and 2013's 'Modern Vampires of the City'. At one point, a fan shouted out to inquire about the progress of their highly anticipated new record, which was due for release earlier this year, but has now been delayed.
"When's the new album coming out?" Keonig replied. "Oh, who cares? No, it's done. We'll talk about that later."
Further on in the set, he explained: "We don't wanna make big deal about it, but this is our first time playing in the UK since Reading & Leeds 2014. We agreed to do [End of The Road 2018] a long time ago and, yeah, we hoped we'd be doing a victory lap with our new album. But, you know, this is what happens. Life goes on. We promise we'll come back to the UK and we'll play new songs. And they're good – I promise."
After taking another question from a fan, Koenig said: "Has the vinyl been ordered? Yeah, but the vinyl takes a long time. You know the industry. There's a real log jam at the vinyl factory these days."The singer also took the opportunity to introduce new members of the band, following the departure of founding member Rostam Batmanglij: guitarist Brian Jones and Greta Morgan, whom Koenig described as his "third cousin by marriage".
NMR (Photo: press)