47Soul - Balfron Promise (Cooking Vinyl , 2018)
47SOUL – the Arab electronic supergroup, with members from Palestine and Jordan– released their full-length debut Balfron Promise. For the last two years the band have been living in London, and were temporarily residing in Balfron Tower-the setting of music videos by the likes of Oasis, The Verve and Wiley. Balfron Tower landlords opened several of its unused flats to artists on a temporary basis while evicting its long-standing tenants, having been bought by luxury property developer Londonewcastle. While inevitable, the experience of watching their neighbours being removed from somewhere they thought of as home by bigger, more powerful, wealthier forces was only too familiar to the artists from Palestine and Jordan, a sentiment that has fuelled the explosive album.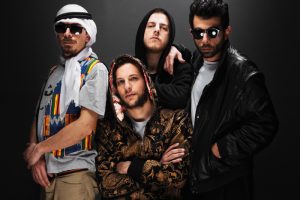 The title Balfron Promise is an intentional nod to the Balfour Declaration – the centenary of which has just passed. The songs expose the similarities between parts of the world we think of as distant, war-torn lands, and the culture and class wars happening on our own doorstep. It explores the idea that perhaps gentrification and occupation aren not as different as we think. 47SOUL have become renowned for inventing their own genre Shamstep (also the name of their debut EP), which fuses hip-hop and pop lyrics in English and Arabic. The electronic creation, featuring elements of Arab roots music have been kicked up a gear on Balfron Promise, with cinematic soundscapes and menacing rock undertones creating an extra atmospheric edge. The quartet have gained a cult following from gigs around the world, including at the likes of Glastonbury and WOMAD in the UK.Their distinctive hooks and powerful political lyrics resonate with their fans with the YouTube music video for their debut single Intro to Shamstep currently sitting on 5.4 million views.
They also have a formidable reputation as a live act built on their energetic and intoxicatingly otherworldly live shows. This is demonstrated by their most recent sold-out live teaser performance of their new album at London's Village Underground. Beyond their musical influence, 47SOUL are renowned as a voice on social issues – the band's very name is an allusion to the occupation of Palestine. Their lyrics often tell stories of oppression and the efforts of normal people to combat it, not only in the Middle East but around the world.
Photo: press