Initially pegged as the voice of a generation when "Loser" turned into a smash crossover success, Beck wound up crystallizing much of the postmodern ruckus inherent in the '90s alternative explosion, but in unexpected ways. Based in the underground anti-folk and noise-rock worlds, Beck encompassed all manner of modern music, drawing in hip-hop, blues, trash rock, pop, soul, lounge music — pretty much any found sound or vinyl dug up from a dusty crate — blurring boundaries and encapsulating how '90s hipsters looked toward the future by foraging through the past. In another time, Beck may have stayed in the province of the underground, but he surfaced just as alternative rock turned mainstream, with his 1994 debut Mellow Gold launching "Loser," a hit that crossed over with the velocity of a novelty, a notion Beck quickly punctured with a succession of indie LPs delivered in the wake of Mellow Gold, including the lo-fi folk of One Foot in the Grave, delivered on the K imprint. But the album that truly cemented Beck's place in the pantheon was 1996's Odelay, a co-production with the Dust Brothers that touched upon all of his obsessions, providing a cultural keystone for the decade while telegraphing all his future moves, from the soul prankster of Midnite Vultures to the melancholy troubadour of Sea Change.
Fittingly, Beck came from a distinctly artistic background, the son of string arranger/conductor David Campbell and Bibbe Hansen, the latter a regular at Andy Warhol's Factory whose father was a pivotal contributor to the Fluxus art movement. Adopting the Hansen surname after his father left, Beck grew up in Los Angeles, dropping out of school in the tenth grade to play as a street busker and attend poetry slams. Bashing out blues and folk, Beck wound up assembling a home tape called The Banjo Story before departing for New York, where he operated on the margins of the anti-folk scene without ever breaking into it.
He returned to Los Angeles, where he continued to play clubs, eventually gaining the attention of Bong Load Records, an independent operated by Tom Rothrock and Rob Schnapf. All parties agreed to pair Beck's fledgling folk with hip-hop beats assembled by producer Karl Stephenson, whose kitchen provided the studio for their first efforts, including "Loser." These tapes remained unreleased as Beck recorded an album's worth of material with Calvin Johnson for the latter's K label, but the first release Beck had was the Flipside single "MTV Makes Me Want to Smoke Crack" and Sonic Enemy's cassette release of Golden Feelings. But what really broke the doors open was Bong Load's 12″ single of "Loser," which garnered considerable play in L.A., coinciding with increased underground attention. Soon, Beck signed with Geffen, striking a deal that allowed him to release on independent labels. One of these immediately followed — Fingerpaint released a 10″ record A Western Harvest Field by Moonlight in January 1994 — before the Geffen debut Mellow Gold appeared in March of 1994.
Naturally, "Loser" was the lead single from Mellow Gold and it turned into an instant smash, boasting a hook that worked as an ironic underground rallying cry and a novelty crossover. Despite many positive reviews, Beck worked overtime to dispel the notion he was a novelty, quickly releasing two indie albums in succession: the noise-skronk Stereopathetic Soul Manure and One Foot in the Grave. Stereopathetic made few waves, but the stripped-back, folky One Foot in the Grave acted as a counterbalance to the gonzo Mellow Gold, illustrating the depths of his talents.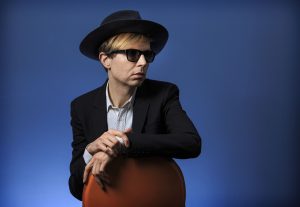 After a furious 1994, Beck laid relatively low in 1995, touring with the fifth Lollapalooza in between working on a new album with the production team the Dust Brothers, who had collaborated with the Beastie Boys on their landmark 1989 Paul's Boutique. The resulting album, Odelay, appeared in June 1996, preceded by the lanky, funky single "Where It's At," which would go on to win the Grammy for Best Male Rock Vocal. Odelay piled up acclaim and hits — "Devil's Haircut," "Jack-Ass," and "The New Pollution" all charted around the world — and the record went double platinum, becoming a touchstone of '90s alternative rock. An outtake from the album, "Deadweight," appeared on the soundtrack to Danny Boyle's 1997 film A Life Less Ordinary, then Beck set to work on his next album with producer Nigel Godrich, who had just worked with Radiohead on OK Computer. Their collaboration, originally slated for an indie release but moved to Geffen, thereby setting a precedent where no future Beck LP would be released on an indie (something worked out in the courts the following year), traded futuristic rock — either the joyous collage of Odelay or the dystopia of OK Computer — for a quiet, pulsating, psychedelic folk-rock album called Mutations. Riding high on Odelay, the album charted well without turning out any major hits, although it did garner a Grammy for Best Alternative Music Performance.
Beck took another abrupt change in musical direction in 1999 with Midnite Vultures, a garish party record that was part satire and part salute to soul and funk, particularly Prince. Reviews were divided between ecstatic and skeptical, but the album had some real hits with "Sexx Laws" and "Deborah," and in some ways it was the apex of Beck's hipster prankster phase, a persona he shed with his next album, 2002's Sea Change. Recorded in the wake of a romantic breakup, Sea Change was another Godrich production, but it was gentle and mournful, lacking some of the gritty underpinnings of Mutations yet retaining the psychedelia — and that psychedelic edge was brought out in the supporting tour when Beck hired the Flaming Lips as his supporting band. The tour was well received but there were some tensions, as reported by Lips leader Wayne Coyne later.
After an extended break — the longest he had taken between albums to date — Beck returned in 2005 with Guero, an album that reunited him with the Dust Brothers and consciously evoked Odelay. Guero launched a few hits, including "E-Pro" and "Hell Yes," and was followed within months by Guerolito, a remixed version of the entire album. Beck continued in this direction the following year with The Information, but its Nigel Godrich production kept the album streamlined and emphasized the darker undercurrents in the songs. Some of that darkness could be heard on his eighth album, Modern Guilt, a 2008 release produced by Danger Mouse, marking his first time in 14 years that he worked with a producer who wasn't the Dust Brothers or Godrich. Modern Guilt performed respectably — it debuted at eight on the U.S. Billboard charts and received strong reviews — but he spent the next several years relatively quiet.
In 2009, Beck began actively pursuing a career as a producer, collaborating with Charlotte Gainsbourg on her acclaimed IRM album; two years later, he produced Thurston Moore's Demolished Thoughts and Mirror Traffic by Stephen Malkmus & the Jicks. He also dipped his toe back into solo recording on the soundtrack to the 2010 Edgar Wright film Scott Pilgrim vs. the World. Still, between 2009 and 2010 much of his studio energy was devoted to his Record Club, where he and a loose collective of friends covered classic albums in their entirety; the albums covered included The Velvet Underground & Nico, The Songs of Leonard Cohen, and INXS' Kick.
Beck returned to original material in 2012 via Song Reader, a collection of sheet music featuring 20 new, unrecorded songs; although he didn't record versions of these songs, he did appear at Song Reader concerts featuring other musicians (and a collection of those live performances was eventually released under his name). In 2014, Beck released Morning Phase, his first new album in nearly six years and first album for Capitol Records. Described by the singer/songwriter as a "companion piece" to 2002's Sea Change, it appeared in February 2014, preceded by the singles "Blue Moon" and "Waking Light." Critical reception was largely positive, and the album won three Grammy awards, including Best Rock Album and Album of the Year. Beck returned the following year with the lively single "Dreams," and the like-minded "Wow" in 2016. He continued recording for an upcoming album, and also made guest appearances on work by fun.'s Nate Ruess, the Chemical Brothers, M83, and Flume.
Foto: Press