MELANIE DE BIASIO – LILIES (PIAS 2017)
Born to a Belgian mother and an Italian father, Mélanie De Biasio learnt ballet from the age of three, and started playing the Western concert flute at eight. At the age of 12, she joined the Ensemble de l'Harmonie de Charleroi with whom she toured Canada for a month. During her adolescence, she further improved her voice and diction. Being a fan of groups like Nirvana, she sang and composed in English in a rock band at age 15. She played in several groups before totally setting her mind to jazz with the trio Harmadik Fül. With them, she learnt to improvise while discovering the many facets of music. After three years of singing studies at the Royal Conservatory of Brussels, she was awarded a first prize with a distinction degree. After that, she toured in Russia, in which she gained further professional experience. This is when Steve Houben (Belgian jazz musician and saxophone professor at the Conservatory) asked her to appear in concert with him, allowing her to play in numerous festivals and other large music events in Belgium.
De Biasio has sung and played the flute with noted Belgian jazz musicians such as Pascal Mohy, Michel Herr, Jan de Haas and Philippe Aerts, and was nominated for a Django d'Or award in 2006, in the "Young Talent" category. One year later, she released her first album, A Stomach Is Burning, for the Igloo label. It was favorably received by the critics and won the "Best Jazz Album" award at Les Octaves de la Musique.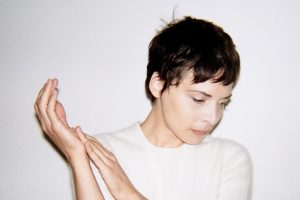 In 2011, De Biasio worked with prisoners in a collective creative process using voice, movement, breath and rhythm to awaken the creative spirit, in collaboration with Avanti ASBL that led to a critically acclaimed performance in the prison. Two years later, she collaborated with grammy award-winning saxophonist Charles Neville and performed "Paradise Isn't Enough" in the United States.
Her second album, No Deal, released in 2013 on PIAS, was described as a simple and sensual work. In 2014, she became the second Belgian artist to play on Later… with Jools Holland, after Zap Mama almost 20 years earlier. She supported the Eels on their European tour. The album was remixed and released worldwide by PIAS UK in 2015. That same year, De Biasio headlined the famous Montreux Jazz Tokyo Festival.
Her EP Blackened Cities was released in May 2016 and was again well received by numerous reviews.
Melanie De Biasio marks her return with third album, Lilies – from the unsettled glide of Your Freedom Is The End Of Me, De Biasio mining a deep blues over spectral, knowing piano, to the restless rumble of Gold Junkies, which relocates the infernal bustle of Nina Simone's Sinnerman to the 21st Century, to the bereft, bewitched Brother, and the haunted, after-midnight spook of And My Heart Goes On – you'll be struck by how alive, how teeming with ideas and energy this music is. Classically trained and revered in her native Belgium, De Biasio has uncovered fans in the shape of Gilles Peterson – who heralded De Biasio as one of the most exciting artists in the jazz world and Radiohead's Phillip Selway with the release of her second album, 2014's No Deal.
Foto: archive