Warhaus - Warhaus (Pias, 2017)
Self-titled album from Warhaus – the artistic alter ego and solo recording project of Maarten Devoldere of acclaimed indie act Balthazar – the follow up to last year's celebrated debut We Fucked A Flame Into Being.
Warhaus continues the darkly sensual sound Devoldere has become known for, but many of these songs were written in a much more spontaneous manner, with many recorded as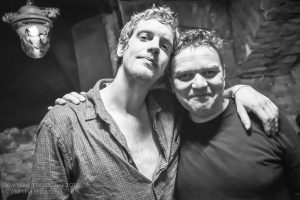 live.
Warhaus has drawn numerous comparisons to Leonard Cohen, as well as the likes of Nick Cave and Serge Gainsbourgh, and while those influences can still be heard on this new record, Devoldere also took inspiration from New Orleans legend Dr. John and the writing of Vladimir Nabokov.
Warhaus, the solo side project of Maarten Devoldere (songwriter and core member of acclaimed indie act Balthazar), releases their new self-titled album, Warhaus, on Play It Again Sam. Warhaus follows 2016's critically celebrated We Fucked A Flame Into Being, a lush, moody confessional album whose title comes from a line in D.H. Lawrence's classic novel Lady Chatterley's Lover. Recorded at home in Belgium, among the many stand-out tracks Warhaus offers are a softly lit, marimba-laden woozy meditation on adultery Love's A Stranger; Control, Maarten's story about "the beauty of man surrendering to a woman" set against a dark backdrop of voluptuous strings; and "Everybody" a dirt bag confessional ballad complete with a sing-along chorus: "When their girls are gone, men start watching porn, drink too much and piss in the sink. It's about that," wryly explains Devoldere. The silky No Such High ditches worldly cynicism for an ode to how love can overpower and transcend all temptation. "It's the first time I've embraced those feelings and written a love song without a bittersweet aftertaste," asserts Maarten. As in all the songs, the interplay between Devoldere's smoldering vocals and the velvety tones of Warhaus' backing vocalist, Sylvie Kreusch (who is also his girlfriend) lends the music an intense intimacy and their contrasting personalities feed into the sensual dynamic. "We've very different people," says Devoldere. "She's this natural force which I don't understand at all and I'm the guy who thinks everything through. It's an interesting combination." A far more spontaneous affair than Warhaus' debut release, Maarten gathered his touring band around him to make the new recording. The voodoo rhythms of Dr. John The Night Tripper's seminal 1968 Gris-Gris weave throughout the album, after Devoldere became obsessed with the New Orleans legend's singular sound.
Photo: Martina Mlčúchová