Bryan Ferry And His Orchestra - Bitter-Sweet (BMG, 2018)
Roxy Music mastermind Bryan Ferry recently collaborated with Netflix on the German period drama Babylon Berlin, an experience that served as the inspiration for a new solo album called Bitter-Sweet. The album, like 2012's The Jazz Age, is credited to Bryan Ferry and His Orchestra.
The album, which further explores Ferry's jazz influences, includes reinterpretations of Roxy Music cuts like While My Heart Is Still Beating and Dance Away. Ferry is also tinkering with some of his own solo songs, such as the title track, which Ferry's refashioned as a sumptuous, smoky affair buoyed by melancholic horns.
The album, which has been inspired by Bryan's work on the Sky Atlantic/Netflix television series 'Babylon Berlin' (a German period drama based on the books by Volker Kutscher set in the 1920s), takes the musical stylings from that era and puts a new twist on well loved Roxy Music and Bryan Ferry tracks including 'While My Heart is Still Beating', 'Sign of the Times', 'Bitter Sweet' and 'Dance Away'. Whereas Ferry's previous album in this genre The Jazz Age consisted of instrumentals, Bitter-Sweet includes 8 vocal tracks.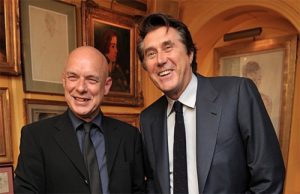 The album embraces ragtime, blues, and jazz, and whilst they evoke nostalgia, hearing beloved songs in a fresh and exciting way gives the record an edge of modernity; jazz in the 1920s was the soundtrack of popular culture – itself a modern invention and it's almost as if we're hearing it for the first time.
The album artwork, designed in the style of the period, includes a written introduction by Princeton University musicologist Simon Morrison, and in his analysis he points out "Bitter-Sweet accomplishes what the modernists of the past, in their youthful enthusiasm, could not. Ferry's music embraces the artifice of art as well as the artlessness of emotion so that the 'sad affair' described at the start leads you to 'break down and cry' by the end. Thus we are transported to the Berlin of the Tacheles club and the Chamäleon, to the zeitgeist of that jazz-friendly metropolis in the young 20th century – the hedonistic world of Babylon Berlin."
NMR (photo: Nick Harvey)