Buffy Sainte-Marie - Medicine Songs (True North, 2017)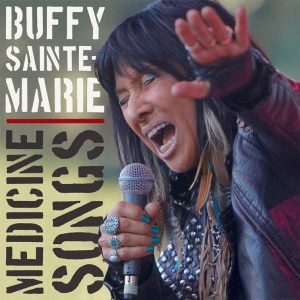 Any reasonable person would imagine that Buffy Sainte-Marie might be tired of fighting the good fight by now. Sainte-Marie was born in 1941, she's been making records since 1964, and she's been singing boldly and bravely against racism, greed, and war — and on behalf of justice, decency, and positive change — ever since. But thankfully for her and for us all, Sainte-Marie is too committed to both her muse and the betterment of the world to give up now, and with 2017's Medicine Songs, she's created a powerful collection that speaks to her past, present, and future as a musical activist. As Sainte-Marie says in her liner notes, "What troubles people today are still the same damn issues from 30-40-50 years ago: war, oppression, inequity, violence, rank-ism of all kinds, the pecking order, bullying, racketeering, and systematic greed." With this in mind, Medicine Songs features two new songs alongside 11 reworked and re-recorded versions of songs from her back catalog (18 on the digital edition). While re-recording older material is a serious mistake for most artists, Sainte-Marie makes it work on Medicine Songs; with new arrangements and updated lyrics, she has brought the songs into the present day and given them new life while also reinforcing their continuing relevance.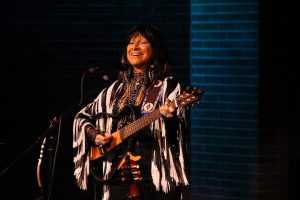 If anything, issues of the environment, economic injustice, and the rights of native peoples have become more relevant with the passage of time, and the passion and fire of Sainte-Marie's performances are very much of the here and now. Her vocals are miraculously clear and forceful on these recordings, and she sounds not so much like an elder statesman of conscious folk music than a fearless contemporary artist who fills these tunes with righteous anger toward the oppressors in our culture (and compassion for the oppressed). The production and arrangements on these songs are thoroughly up to date, with elements of hip-hop and indie rock applied effectively and with intelligence; this doesn't sound like it's trying to be contemporary, it is contemporary, and in the right ways. While some older fans who haven't kept up with Buffy Sainte-Marie's work from 1992's Coincidence and Likely Stories onward might be surprised by the sound and spirit of Medicine Songs, this music leaves no doubt that she has no interest in aging gracefully; at 76, she's as fierce, aware, and committed as any artist a third her age, and these tunes speak to the madness of 2017 with a stunning clarity.
Photo: archive