Calypso Rose - So Calypso! (Because Music, 2018)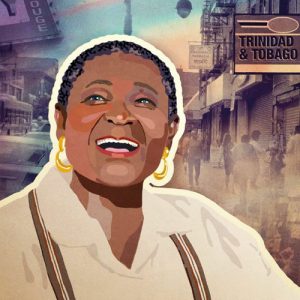 Calypso Rose sure has style and zeal, and her 2016 album, Far From Home, goes to prove it. Much loved and made with the support and blessing of Manu Chao, Far From Home was well worthy of the praise and its victory at the Victoires de la Musique French music awards. And now she's back with a new album, So, Calypso!
There's no doubt about it, as the self-proclaimed 'Queen of Calypso', calypso is her thing and no one has ever come close to dethroning her. She remains the voice of this musical style originating from Trinidad and Tobago and standing out in a traditionally male dominated musical world she's very much a contemporary emblematic figure in the fight for women's rights. For her new album, with a back catalogue of more than 800 songs and 22 albums, the 78-year-old Tobagonian diva decided to go back to the start, and re-record a number of her career defining numbers and cover songs from those artists which have inspired and continue to inspire her, like Nat King Cole, Aretha Franklin, The Melodians and Angélique Kidjo. Common to all the covers, be they from American, Jamaican and African artists, is they all share their sentiment with Calypso Rose's social and musical values. For example, Calypso Rose has covered Nat King Cole's Calypso Blues. Born in Montgomery, Alabama in 1919, the piano-playing crooner, who took a stand against racism and segregation, wrote the song in 1949. Nat King Cole embraced the cause of all North Americans who came from other lands, from Africans to Caribbean people and Hispanics. Calypso Blues (lyrics by Don George, accompanied by Duke Ellington) simply tore apart American ideals, praising the wonders of papaya juice and shrimp and rice over hot-dogs, the douceur de vivre without a dollar to your name, and the virtues of Trinidadian women over icy blondes. "The song has so much energy," explains Calypso Rose. "It starts with a sort of war cry, 'wa-oo-oo, wa-oo-oo, wa-oo wa-oo wa-oo wa-ay', and it also sheds light on the black man's tragedy: the impossibility of returning to the homeland." Nat King Cole showcased the song in a rather memorable television appearance on The Rhythm & Blues Revue, recorded at the Apollo Theatre in 1955. Calypso Rose has humorously made the song her own, adding a touch of reggae and soul, appearing in her video dressed in men's garb in straw hat and braces. Born Linda McCartha Monica Sandy-Lewis in Tobago in 1940, her father was a preacher – just like Nat King Cole's and "The Good Lord" would walk alongside the singer throughout her musical career. Due to the trauma of falling from her bed as a child, Calypso Rose was mute until adolescence and it was the carnival which eventually brought words to her mouth, with all its colours, rhythms and classic tunes such as the playfully rough Rum & Coca Cola which she also covers on the album. The song, which became popular in 1945 thanks to The Andrews Sisters, is a pretty ditty that sums up the flirtatious relationship between the locals of this small sugar producing island and the American soldiers who had set up camp in the Caribbean.
Trinidadian rum is excellent, and mango trees inject a bit of romance… or so goes Underneath The Mango Tree, also featured on the album, a song written by Monty Norman for the soundtrack to Dr. No, the first James Bond film in 1962. Think Hawaiian guitar with stars in your eyes…. When it comes to Calypso Rose, it's all about her personal experiences. Here and there, her choppy calypsos are made up of cheeky winks and serious subject matter, all touching upon the status of women, and the slave trade and its consequences. "I am African," continues Calypso Rose, "my great-grandmother was kidnapped and sold to Trinidad by the French. My family's history covers the Gulf of Guinea, Scotland, Martinique, South Africa…".
One's homeland is never forgotten and Calypso Rose is looking to retrace a story where so many people "were brutally abducted, branded with a hot iron, and treated like animals and a commodity." In Guyana, she met Maroons, those who escaped from slavery, and she channelled the rhythm of their incredible music in Back To Africa. In Liberia, she discovers "coo-coo". Made from various flours, it's a sort of African fufu, similar to what's eaten on her home island. On the beaches of Ouidah in Benin, the hometown of Angélique Kidjo, she visits the Door of No Return, where captives were shipped off to the New World. "I cried," Calypso Rose says. However, she takes this pain, transforming it into passion in Wah Fu Dance, in a duo with the Benin-native. While there, she also discovers that voodoo isn't all about demons and witchcraft, as taught in Christian education. Calypso Rose is intrigued. One evening as she falls asleep in front of the TV, she drowsily catches a feature on the Falasha, the Ethiopian Jews. "Israel. The word immediately caught
my attention, as every Sunday and Wednesday, my father would start his service with a psalm about exile, Israel and Jerusalem, the Promised Land. I thought of these displaced Africans and I wrote a song, Israel By Bus." The title is riddled with Rastafarian references, from Babylon to Zion. As for reggae, Calypso Rose also covers Rivers Of Babylon, "a song of such great sadness", written in 1969 by The Melodians, with lyrics taken from the Bible.
Sounds from the North completed Calypso Rose's musical education. From the blues of the cotton fields, "where the people were crying inside, in their body and soul", to its soul music adaptation, with Aretha Franklin as the high priestess. Calypso covers I Say A Little Prayer, written by the duo behind many an American classic, Burt Bacharach and Hal David. From blues and classic American pop of yesteryear, the melody for How Long appeared. It's "a song which calls out when you're alone, with no lips to kiss, and no one to talk to. My great-grandmother smoked a pipe and spoke Creole. And one day, she shook her head and cried. She said: 'They've taken me away. Nobody knows where they'll be buried once dead. Life is so fragile; the road so long.'" Yet we dance, have fun, celebrate the carnival and fall in love. "A man is a man," says Calypso Rose. "You've got to hold your position as a woman. Me? I'm 'Sweet Brown Sugar', sexy, black and sweet," she laughs, stroking her ebony cheekbones.
Because Music