KAIA KATER – GRENADES (SMITHSONIAN FOLKWAYS RECORDINGS 2018)
A Montreal-born Grenadian-Canadian, Kaia Kater grew up between two worlds: her family's deep ties to folk music and the years she spent soaking up Appalachian music in West Virginia. Her old-time banjo-picking skills, deft arrangements, and songwriting abilities have landed her in the spotlight in North America and the UK, garnering critical acclaim from outlets such as NPR, CBC Radio, Rolling Stone, BBC Music, and No Depression
Kaia started her career early, crafting her first EP Old Soul (2013) when she was just out of high school. Since then, she's gone on to release two more albums, Sorrow Bound (2015) and Nine Pin (2016). Her second album wove between hard-hitting songs touching on social issues like the Black Lives Matter movement ("Rising Down") and more personal narratives speaking to life and love in the digital age ("Saint Elizabeth"). Nine Pin won a Canadian Folk Music Award, a Stingray Rising Star Award and sent Kaia on an 18-month touring journey from Ireland to Iowa, including stops at The Kennedy Center, Hillside Festival and London's O2 Shepherd's Bush. For her third album, Grenades(October 2018,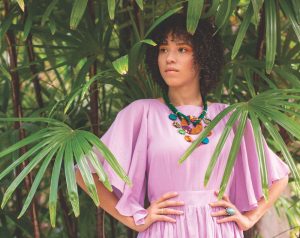 Folkways/acronym Records), she took a decidedly different direction, choosing to lean into a wider array of sounds and styles, in order to convey a wider array of emotions and topics, most notably her paternal ancestry. Grenades has been nominated for a 2019 JUNO award for Contemporary Roots Album of the Year.
New Album is a creative force in her own right, Kaia Kater rises to bold new heights of imagination and creative expression on her third album Grenades. With abundant poise and poetry, Kater composes an odyssey about personal identity, memory, and discovery in the wake of her father's journey as a young political refugee. She draws upon her diverse musical influences in Quebec, the Caribbean, and Appalachia, and her bicultural experience as a second generation Grenadian-Canadian, to envision a new path for herself and her songs.
NMR (photo: Raez Argulla)