Cosmo Sheldrake - The Much Much How How and I (Transgressive Records , 2018)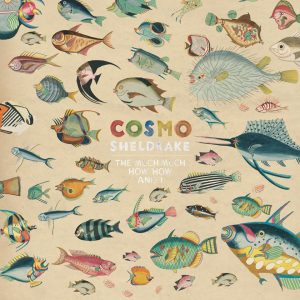 Cosmo Sheldrake, the prodigiously talented and profoundly unique 27-year-old singer, songwriter, composer, producer and multi-instrumentalist from London, announces details of his debut album 'The Much Much How How And I', out on Transgressive Records.
'The Much Much How How And I' was written under the influence of a diverse group of musicians – ranging from The Beatles and The Kinks to Moondog and Stravinsky – and shaped by Sheldrake's study of anthropology at the University Of Sussex, his longstanding interest in ethnomusicology and a trip to Mardi Gras in New Orleans.
Is not every day that a masterpiece is released. Today is that day. Cosmo Sheldrake debut album is a long-awaited work of art (at least from our part), and one that does not disappoints. Ever. But surprises in every bit, every song, every sound. The Much Much How How and I, incorporates Japanese koto drums, a marching band percussion, a nightingale from Kent and a host of woodwind instruments like a contra bassoon, just to name a few (by the way we couldn't name any of these by ourselves). Just to tell it right-away,
for us this is an album that can be seen as a trip, a voyage, something unique and rare in today's indie music world.
Cosmo Sheldrake is a sound explorer. Maybe that's the best way to describe him. And every explorer has to start a journey from somewhere. Linger Longer opens The Much Much How How and I album, in a cinematic manner – one that is maintained through all the 14 songs in fact -. Is as exploratory as an album opener can be. Filled with instrumental layers, reflects the singer Kusturica-like roots, and always sounds like a train adventure through the mountains and deserts. It never repeats a melody or a turn (until the right very end). And ends like it started, as a proper movie/adventure open-credits ending.
NMR (photo: Cosmo Sheldrake)