The Human Experience - Broken Open (Slow down, 2017)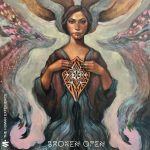 The album, titled "Broken Open," examines the depths of the most difficult of human emotions, the "age old story," love. "Broken Open," like love, is complex and wrought with all that comes with falling in love, being in love, letting go of love, and (most importantly) loving oneself. The 13-song album immerses the listener in sadness, joy, compassion, bliss, peace, and all of the other beautiful feelings that come with experiencing what it is to love and to be loved.
The title track, "Broken Open," showcases Block's talent for blending electronic compositions with organic sounds featuring heartbreaking vocals and a piano that makes you feel like you're in a smoky jazz club which transition nicely into the scat-like snaps in "Traveling Blues," and a trombone (played by Mal Webb) that makes you feel at turns excited and lonely.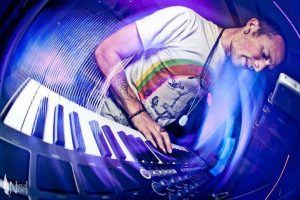 When asked about the album, Block said, "The songs explore the full spectrum of love; Birthing from innocence to heartbreak to love in the other to breaking free to finding love in oneself" – from highs that make you feel as though you're "Walking on the Moon," to heart wrenching lows as love "Slips Away."
True to form, Block showcases his talents while embracing the strengths in others. The album has many incredible collaborations, with tracks featuring The Grouch, Quixotic, Leah Song (Rising Appalachia) and more.
Block has built a diverse fan base from countries around the world and played events ranging from Burning Man, Boom, Coachella, Electric Forest, Wakarusa, Lightning in a Bottle, Sonic Bloom, Symbiosis, and Envision to name a few. David has shared the stage with artists such as Thievery Corporation, Bonobo, Tipper, Emancipator, and many more.
While Block's sultry beats and cohesive sound have always been seductive, "Broken Open" brings a brazen vulnerability that comes with maturity. More than just sharing emotion with the listener, Block provides something more – something new. "Broken Open" goes out on a stylistic limb which is both innovative and refreshing.
"It is different, and I'm embracing that it's great to be different sometimes," says Block.
Foto: Nina Noe