Fatoumata Diawara - Fenfo (Shanachie, 2018)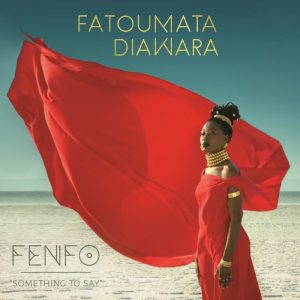 Fatoumata Diawara released her new album Fenfo, which translates as 'something to say'. The follow-up to Diawara's widely acclaimed debut Fatou, the album was co-produced by Diawara and Matthieu Chedid (better known by his stage name M) and recorded in Mali, Burkina Faso, Barcelona and Paris. Diawara, who will play a sold out date at London's Jazz Café on 26th March, will unveil 'Nterini' (which means 'my love/confidant'), the first single to be taken from Fenfo, on 8th March. The 'Nterini' video, directed by Ethiopian photographer and contemporary artist Aïda Muluneh, will appear on streaming services on 9th March. As Fatoumata explains, 'Nterini' is a song about the heartache felt by two lovers separated by distance: "my love and my confidant has gone far away and has not sent any news back to me. I love him despite everything and I miss him every day. I want to hear from my darling; otherwise I cannot sleep well at night."
Hailed as one of the most vital standard-bearers of modern African music, Fatoumata Diawara takes her artistry to fresh and thrilling heights on her new album Fenfo. Boldly experimental yet respectful of her roots, it's a record that defines her as the voice of young African womanhood – proud of her heritage but with a vision that looks confidently to the future and a message that is universal.
Her spectacular 2011 debut album Fatou was hailed by Pitchfork as a "beguiling album" that "simply surrounds you with its atmosphere", The Guardian described it as "spellbinding" and Gilles Peterson declared Fatoumata to be "one of the most exciting talents I've heard in a long time" making the Malian singer, songwriter, guitarist and acclaimed actress the most talked about new African artist of recent years. Fenfo, translating as "something to say", dramatically fulfills that promise on a set of vivid and original new compositions that draw on the rich experiences she has enjoyed since. "I've had so many different musical adventures since the last album, touring and working with so many other musicians and I think you can hear how all of that feeds into this record," she says. "This is my time and I'm sharing my soul."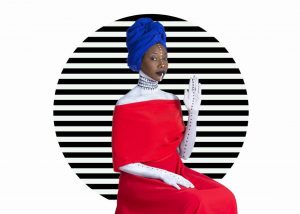 Like her debut, which crossed over to feature prominently in the 'Albums of the Year' lists in the mainstream rock press, Fenfo is an album that has no borders. The modernity of stinging electric guitar lines combine with the ancient African strings of the kora and kamel ngoni and kit drums combine with the timeless rhythms of traditional percussion. Fatou's African musicians, such as Pascal Danaë on electric and acoustic guitars and Etienne Mbappe on bass, are joined by key collaborators including the celebrated Malian kora player Sidiki Diabaté, alongside French auteur Matthieu Chedid – who plays guitar and organ in addition to co-producing – and the brilliant cellist Vincent Ségal, whose elegant playing graces two tracks. Chedid, a superstar in his native France, recently won the 'Best World Music Album' award at Les Victories de la Musique for his Lamomali project, which also featured Fatoumata.
The compositions on 'Fenfo' cover the gamut of African styles, ancient and modern, from the slow-burning blues of 'Kokoro' to the simmering funk of 'Negue Negue' via the syncopated Afro-pop of 'Ou Y'an Ye'. Gentle lullabies ('Mama') sit alongside spirited rockers ('Bonya'). The hypnotic groove of the title track is juxtaposed against the breezy, playful rhythms of 'Dibi Bo'. The hauntingly intimate 'Don Do' floats on the simple but telling combination of just Fatoumata's voice and acoustic guitar and Ségal's evocative cello.
Diawara has previously worked with some of the biggest names in contemporary music. She recorded with Bobby Womack and Herbie Hancock; played Glastonbury and other major festivals; and toured/recorded with the Cuban pianist Roberto Fonseca. She assembled a West African super-group featuring Amadou and Mariam, Oumou Sangaré and Toumani Diabaté to record a song calling for peace in her troubled homeland; and climbed aboard Damon Albarn's star-studded Africa Express, which culminated in her sharing a stage with Sir Paul McCartney. Diawara most recently appeared at Carnegie Hall alongside David Crosby, Chris Thile, Snarky Puppy and others for an evening of topical protest music. Rolling Stones noted that "the singer and guitarist, originally from Mali, provided two of the night´s most striking moments. Her ode to the power of women, "Mousso", sung in her native language, was hypnotic, and her captivating stage spins enhanced her anthem "Unite"".
Diawara continues to pursue a successful career as an actress, including an acclaimed appearance in 2014's Timbuktu (Le chagrin des oiseaux), which received both BAFTA and Academy Award nominations, as well as working courageously as a social activist, campaigning against the trafficking and sale of black migrants in Libyan slave markets and recording the song "Djonya" (meaning 'slavery', in Bambara) in which she restates the universal, but often sadly disregarded truth that we all belong to the same human race regardless of colour, ethnicity or religion.
A modern day storyteller, the eleven songs on Fenfo – sung mostly in Bambara – cover such timeless subjects as respect, humility, love, migration, family and how to build a better world for our children. "I didn't want to sing in English or French because I wanted to respect my African heritage," she explains. "But I wanted a modern sound because that's the world I live in. I'm a traditionalist, but I need to experiment, too. You can keep your roots and influences, but communicate them in a different style."
NMR (photo: Aida Muleneh)