FRIGG – FROST IN FIDDLES (FRIGG 2017)
FRIGG is one of the highest ranking Finnish contemporary folk music bands and their eighth album is Frost on Fiddles. Frigg's Nordgrass sound is a fresh and sophisticated blend of Nordic tradition and Americana which has attracted the ears of folk & world & classical fans alike. Their previous studio album Polka V was chosen as a Songlines' Top Of The World 2013, Folklandia's Folk Album of the Year 2012 and nominated for the Finnish Copyright Society's Teosto Prize.
Fiddling but not as we know it… Musicianship of highest quality with more than a hint of mischief and wonder. For 15 years already.
Frigg features the premier talents of a young generation of Finnish folk musicians. All seven musicians have absorbed melodies and rhythms from various music styles such as bluegrass, Celtic, Balkan, and even heavy metal, among others. Thus they have developed a blend of their own called Nordgrass, a joyful mix of Nordic folk and American bluegrass.
While being the leading act of the Nordic fiddle music, Frigg remain true to their roots. These musicians draw their strength first and foremost from the folk music heritage of their own homeland. In Finland, the fiddling tradition is alive and well in Kaustinen, a small municipality consisted of a string of villages that have given shelter to many a folk musician during the past centuries. One of those villages, Järvelä, gives its name for the most renowned fiddling family of the country. Frigg features no less than three Järveläs, the frontman Antti and his cousins Alina and Esko, who have learnt the tradition first hand from relatives. .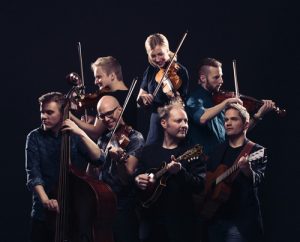 Besides Järveläs the Frigg feature brilliant Tero Hyväluoma and Tommi Asplund on fiddles, and versatile string players Tuomas Logrén and Petri Prauda on guitar, dobro, and mandolin.
"We are trying to bring the joy of the music", Frigg's frontman Antti Järvelä said when interviewed on their seventh tour in the USA. "It's happy music so why not show it".
The global world music media have featured Frigg extensively. Articles and reviews on FRoots and Sing Out, live performance on BBC Radio 3, and Top of the World selections on the Songlines magazine have paved the way. Frigg's latest album Polka V was selected as the Folk Album of the Year in Finland and nominated for the prestigious Teosto Prize, awarded annually by Finnish composers – underlining the fact that Frigg performs mostly original material written by the band members
The 7-piece group come from the remote and tiny country of Finland but have brought their fast and furious fiddles to gigs in North America, Australia, Japan, Europe and the UK, including appearances on major festivals such as Celtic Connections, Glatt und Verkehrt, WOMADelaide and Rainforest World Music Festival, to name just a few. A hair-raising, voice-losing, heart-burstingly beautiful gig full of traditional Finnish tunes with Norwegian detours, marks left from the two former Norgewian band members Einar-Olav and Gjermund Larsen. Energy, fun, humour and interaction are Frigg's most important virtues on any gig. Powerfolk and perfect!
NMR (photo: Frigg)