Thievery Corporation - Tresures From Temple (Esl, 2018)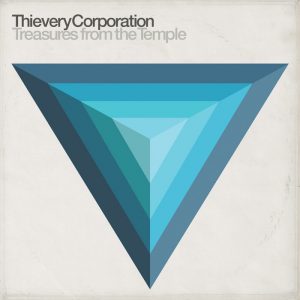 For a good 20 years, one name has come up in the downtempo world for mixing several genres into one comprehensive sound, and that name is Thievery Corporation.
Since 1995, they have put forth 10 full albums mixing Jamaican Dub with Acid Jazz, Reggae rhythms with Brazilian and Bossa Nova. They bring the New York world flavour by featuring Middle Eastern vocals and Psychedelic Dub. On the 20th of April, they bring forth a new album, Treasures From The Temple.
This new album is meant to be appreciated as a companion album to their 2017 release of The Temple of I and I, so we must first examine that. It appears to be much more focused than previous albums, keeping mostly to a Trip Hop and Jamaican Dub vibe. Thievery Corporation has always been bringing tight lyrics to the 99% mindset: "It's on you, it's your mind, it's a complex plan that keeps us confined…" Perhaps the message they send with these last 2 albums overcomes the spread of genres that they usually encompass, and it seems to work for them, as their sound is immediately recognisable as Thievery.
Thievery Corporation, namely Eric Hilton and Rob Garza, always feature great talent in their music. Treasures From The Temple is no different in this aspect, as they are joined by Lou Lou Ghelichkhani, Notch, Raquel Jones, Natalia Clavier, Mr. Lif, and Sitali. It is through showcasing these collaborators that they are able to cross genres and achieve the sensual downtempo feel that is appreciated across the world, and makes them infinitely mixable to the DJs that rock that low and slow dub feel.
While most of Treasures From The Temple has a distinctly reggae sound, Lou Lou Ghelichkhani comes through with French lyrics on Voyage Libre and La Force de Melodie, distinguishing those songs with a soporific and ambient sound. It's damned hard to stay in a bad mood with Mr. Lif flowing with his Joy Ride. And yet, they lay out the struggle in History, Letter to the Editor, and Destroy the Wicked, bringing their political views to the forefront, while continuing their trippy grooves.
Treasures From The Temple actually does seem to be more complete along with The Temple of I and I. Individually, each album may feel a bit lacking in variety, a pastiche of sorts, although still highly enjoyable. When appreciated together, they do encompass all the qualities fans dig about Thievery Corporation, and brings all the many genres they expose us to together in sensual and diverse completion.
Esl