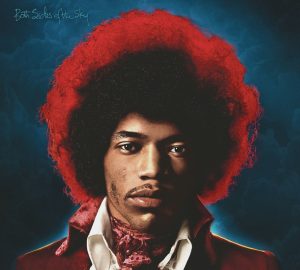 To mark today's release of the Jimi Hendrix posthumous album Both Sides of the Sky, Experience Hendrix has unveiled a new video for the guitar god's previously unreleased version of "Lover Man."
The John Vondracek-directed video features archival footage of Hendrix performing the song with his Band of Gypsys alongsode a montage of the guitarist's home movies, photographs from the studio and psychedelic imagery.
Hendrix and Band of Gypsys bassist Billy Cox and drummer Buddy Miles recorded this take on "Lover Man" at New York's Record Plant on December 15th, 1969, two weeks before the trio's New Year's Eve run of concerts at the Fillmore East provided the backbone for the 1970 live LP Band of Gypsys.
"Lover Man," which Hendrix had worked on since at least 1967's Are You Experienced?, boasts an interpolation of the theme from the Sixties TV series Batman.
"Imagine Jimi doing a take and when everything falls apart, he'd start playing the Batman or Peter Gunn theme without missing a beat," Hendrix's producer Eddie Kramer told. "He'd do something really silly and stupid and everybody would be cracking up. He wanted to keep it light. He'd also do it to change it up a bit and inevitably those lines would work themselves into songs, and that's Jimi's sly humor."
Both Sides of the Sky features 10 officially unreleased Hendrix recordings, including "Send My Love to Linda," "Jungle," "Mannish Boy" and "Cherokee Mist." To promote the album, Band of Gypsys' Cox, blues legend Buddy Guy and a backing band of Experience Hendrix Tour veterans will visit Jimmy Kimmel Live on March 13th to perform a Hendrix track.
NMR