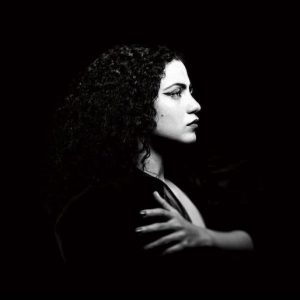 Emel – Ensen Dhaif (PTKF 2017)
Prominent Tunisian Singer/Songwriter Emel returns with Ensen Dhaif.
Now one year later, Emel has partnered with producers from around the world to rework songs off Ensen. Aptly titled, Ensenity, the album features work by Vladislav Delay, Free The Robots, Ash Koosha, among others and is set to come out March 2nd, 2018 on Partisan Records.
From her home in New York Emel reached for the international stage with Ensen, an album recorded in seven countries with numerous producers including Valgeir Sigurðsson (Sigur Ros).
Emel's first album, Kelmti Horra (My Word is Free),introduced her groundbreaking marriage of sounds steeped in Tunisian rhythms and electronic beats. On Ensen, she's developed a style that's even more uniquely her own, combining organic and electronic sounds to produce a record that will appeal to any lover of innovative and heartfelt music. "It took a couple of years to realize the visions that were popping up inside me," Emel says. "I faced resistance from people wanting to keep me confined to an 'ethnic box' and trying to limit my creative freedom."
Despite government censorship in Tunisia, Emel found relief and strength in the music of Baez, Dylan, Lennon, Pink Floyd and Led Zeppelin—she even formed her own metal band while at university. She soon became known on the Tunisian alternative scene for her protest songs, "little by little, more and more people started coming to my shows, telling me my words were a relief — but I knew I'd never get anywhere in Tunisia, no matter how talented I was."
After saving money from gigs, Emel moved to France in 2008 and developed an international following through social media. During the Tunisian Revolution in 2011, her song "Kelmti Horra (My Word Is Free/written in 2007)" reached millions of views on Youtube and eventually became the anthem for the Arab Spring.
"While the songs on my first album, Kelmti Horra (My Word Is Free), developed on stage over a six-year period, Ensen is a fully realized studio album. Producing it was a process of soul searching and liberating musical experimentation. I was looking for a deeper, limitless way of expressing myself."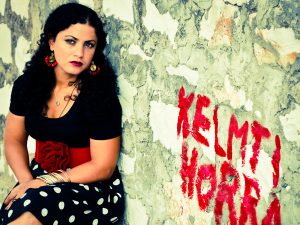 With her main collaborator, French/Tunisian producer and physicist Amine Metani, Emel shaped an album of expansive soundscapes. She recorded Ensen in seven countries across three continents, with several additional producers including Valgeir Sigurðsson (Sigur Ros, Bjork) and Johannes Berglund (The Knife, Shout Out Louds, Ane Brun).
"We initially recorded acoustic takes of the songs using piano, guitars and Tunisian style drumming. I then had the idea of create my own library of electronic beats by running percussion and recorded sounds through several homemade setups. Then we added in analog keyboards, mixers, effects and distortion, and the result sounded nothing like anything we'd ever heard before."
The team's production approach brought out the cinematic side of Emel's music, also inspired by the dramatic electronic music of Forest Swords, Samaris, Ben Frost, and James Blake. "Ensen Dhaif (Helpless Human)," the title track, is propelled by sparkling gumbri (a Tunisian three-stringed big bass lute used in Gnawa music), feverish zukra (Tunisian flute), trance-inducing bendirs (North African frame drums), and heavy kick drum. "The lyrics call to disobedience when the oppression of social injustices run so deep." Pulsing gamelan gongs and North African percussion introduce "Layem," a song about the plight of the homeless. Emel's vocals are full of restrained emotion as the song builds to a finish, awash with rich, distorted synthesizer textures.
"Fi Kolli Yawmen" has solemn echoes of church music as it follows Emel's freely improvised vocal line over a horizon of organs and synthesizers. Flutes and gumbri give "Thamlaton (Drunkeness)" a funky feel, a song that combines Iraqi dabke with industrial rhythms, and Emel's wild vocals.
"It's contemporary abstract prose: Where are we? What are we doing? What the hell is going on inside us? It's like the flesh and the body collapse in the form of interior anarchy, to raging states that we don't yet know… it's almost erotic."
Emel will tour to support the record, but her concerts go far beyond the sounds on the album. "I never perform the same way twice. I am more of a theatre person than a studio artist; the songs take on multiple lives once the recording is done. I'm very free with my vocals. I often take unexpected, spontaneous paths with the feel of the moment."
Photo: archive