Local Natives - Violet Street (Loma Vista, 2019)
Local Natives released new album Violet Street. To celebrate, the band has revealed a pair of singles (and accompanying music videos) from the album: the expansive 'When Am I Gonna Lose You' featuring lush guitars, iridescent harmonies, and paranoiac pop vocals, and the "shimmering" 'Café Amarillo'.
In the newly released 'When Am I Gonna Lose You' video, actress and style icon Kate Mara (House Of Cards) gives a chilling, melancholic performance in the video that evokes classic LA films such as David Lynch's Mulholland Drive and Mike Nichols' The Graduate. The video was shot in and around the Hollywood Hills in February 2019. It is directed by Van Alpert (Post Malone) and features visuals by Public-Library (Drake, Mac Miller, Nike).
The question at the heart of Violet Street that threads together 'Café Amarillo,' 'When Am I Gonna Lose You?' and the other eight original tracks is, 'With all of the chaos in the world, where do you find your shelter?'
"I got married last year," says Taylor Rice (vocals, guitar). "I found myself in an incredible relationship that was great on so many levels, but I always felt like it was going to go away, fall apart, and crumble. This song is me diving into murky emotions of anxiety and doubt in the middle of love and joy."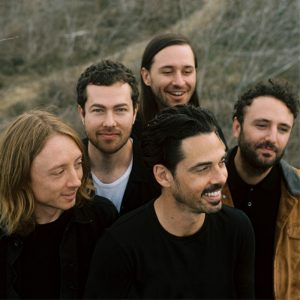 The classic studio setting is juxtaposed on Violet Street with modern production and visuals to form a timeless album. The band's signature soaring 3-part harmonies are augmented by loops of tape, physically spliced and transformed by hand. The result of experimenting in the studio with producer Shawn Everett (who recently took home Album of the Year at the 2019 Grammy Awards for mixing Kacey Musgraves' album Golden Hour and has worked on albums with Alabama Shakes, The War On Drugs) is a band renewed.
Based in Los Angeles, the quintet progressed their blissful sound over the course of three full-length albums, Gorilla Manor [2009], Hummingbird [2013], and Sunlit Youth [2016]. The latter received praise from The FADER, Consequence of Sound, The Guardian. In between countless sold out shows and festival appearances – including a standout Coachella 2017 set – they've graced the stages of Austin City Limits, The Tonight Show Starring Jimmy Fallon,The Late Late Show With James Corden, and more.
NMR (photo: press)