Marina Cedro - Buenos Aires 72 (Tango 33, 2018)
Buenos Aires 72 is an album original tango songs written by Marina Cedro and Philippe Cohen Solal (Gotan Project) and a covers of Puse a hechizo en vos (I Put A Spell On You) and Rara (Creep).
The 1970s in Argentina, so rich in creation and experimentation, these famous seventies, years of childhood for Marina, are also those of a leaden cloak, a cruel and ignorant dictatorship, pointing at his youth, eager for free love, Curious about sensations and rebellious music. This is what nourishes their music made of current and future sonorities.
This album, which was be released on september, 2018, precedes the release of an album accompanied by a music and dance performance created by Marina Cedro.
Buenos Aires 1972: this song tells censorship, passion and revolution. A part of the still vivid history of Argentina seen from the perspective of a daughter of the dictatorship who sings her modern and fatal hometown.
La Noche de los Lapices (Mike Ladd): Inspired by the true story of "the night of the pencils", where in 1976 a dozen 17-year-old boys and girls demonstrated in the streets of La Plata. The repression was terrible. Only four of them survived.
Mike Ladd, an American rapper, draws a parallel between this dramatic past and our uncertain present. Marina sings in echo the love of two of these young protagonists.
Puse a hechizo in yours: the famous "I put a spell on you" by Screamin 'Jay Hawkins adapted here for the first time in the language of Borges. This voodoo song enchants us again and again, like a hymn to love.
Amor Secreto: The story of a secret and unexpected love between two women passing through a luxury hotel in New York.
La Nueva Marcha: this new march is the one that leads us to dissent towards the path of freedom.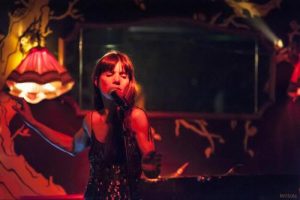 Singer, pianist, composer, Marina Cedro embodies the spirit "porteño", imbued with modernity. Marina, is a feline dancer and magnetic juggler of words: those of a lunar poetry … and port. She passes from piano to singing, from poetry to dance with sensitivity and an insolent ease, deliberately contemporary.
Marina Cedro cultivates the art of the minimal in the infinite spaces in wasteland. On occasion, it blends into stage and pen duets. She started young. At the age of eight, she tangos the tangos on the piano of the mythical coffee Tortoni of Buenos Aires, den of the cream of the intellos of the vintage. Conservatory of music and theater courses and then, in London, the highly rated College of Art. On the music side, a first piano – voice album, Marina Cedro Itinerario (2007), another with bandonéon in addition, Marina Cedro Tango (2010). Then there are the intense encounters, including Juan Carlos Caceres, Art Mengo, the huge pianist Gustavo Beytelmann (Piazzolla, Gotan Project) who signed the arrangements for his album Cronicas (2014) and other Latino accomplices. Until the end of the keys, this tango matches the feminine, for a voyage in the form of a poetic odyssey.
The tango is an eternal return. At the beginning of the last century, France had offered Argentina its first step of two, with Carlos Gardel, born in Toulouse. Since then, it is a blessed ping pong chaloupé that rebounds from one decade to another. And Marina Cedro is a singular head of prow, a headstrong character who knows how to share her emotions with her piano and her songs plus some incunabula of the tango that she dresses in her way, minimal and under high tension.
NMR & Rémy Kolpa Kopoul (photo: press)