Delgres - 4 AM (PIAS Recordings, 2021)
It's as if everything I've done with my life until now led me to this moment. The moment Pascal Danaë is talking about is when he realised Delgres was not just another project, but instead a turning point in his career.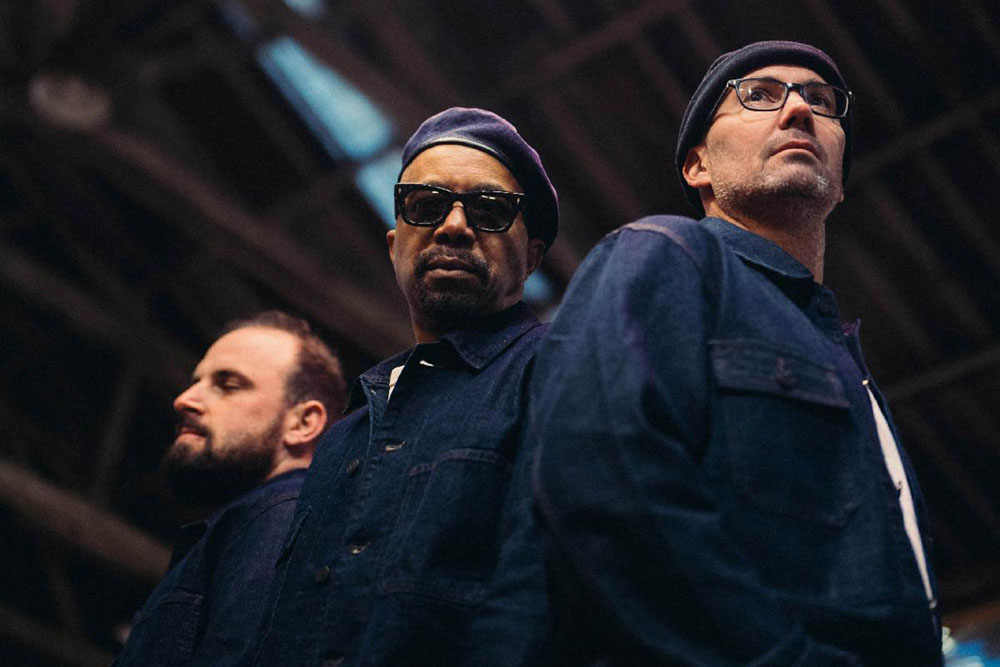 So, who exactly make up the Delgres band behind this debut album? They are a Caribbean blues trio, a genre mainly sung in Creole nowadays, and they came together four years ago after Pascal met the drummer Baptiste Brondy and the sousaphone player Rafgee. They essentially represent a personal adventure, an inner journey for which music acts as the imaginary, although vibrant, vehicle of private experience and family history as well as, more broadly speaking, the destiny of a part of the world marked by its rootlessness and identity struggles.
A singer, songwriter, composer and musician, Pascal has a CV as long as a libretto and as rich and varied as the menu of a wedding banquet. Having worked with Peter Gabriel, Youssou N'Dour, Laurent Voulzy, Neneh Cherry, Ayo and Gilberto Gil, to mention just the most famous among them, Pascal has always known exactly where he stood in terms of his worthy career, which he describes on the song Vivre sur La Route. After garnering plenty of experience throughout his different lives in Paris, London and Amsterdam, he distinguished himself with a solo album in 2007 (London > Paris) and then won his first award with the Afro-Brazilian trio, Rivière Noire (Best World Music album at the Victoires de la Musique in 2015). He is thus fully aware of the value of working step by step and of small daily achievements. Working with Rivière Noire validated his quest for authenticity and reaffirmed his desire to pluck music up by the roots.
As a member of Delgres, he has attained the even more gratifying goal of achieving perfect harmony between the emotional, historical and artistic dimensions of his personality.
Detailing the origins, Pascal explains; "It all began with a Dobro guitar. I was in Amsterdam when I first played one. The instrument and the feeling of being far from home, as well as the impression that I was at a crossroads between different professional pathways, led me instinctively to play blues music, a style I had already touched on, although indirectly, through jazz. The Creole I learned at home and sometimes used to sing was part of things from the start." On returning to Paris, he decided to build on this experience with some like-minded friends. He first turned to the drummer Baptiste Brondy, with whom he had worked as part of Rivière Noire. "For the bass, on the other hand, I envisioned something like a carnival band, similar to bands in the Caribbean and in New Orleans, where the sousaphone plays the main role." After doing some research, he then contacted Rafgee, a trumpeter who studied at the Conservatoire de Paris, and who regularly plays his bass tuba in a band providing entertainment at Caribbean dances. "Rafgee knows the beguine and the quadrille better than me", Pascal acknowledges. Furthermore, "he's the only musician who can bring together Moussorgski and the mazurka in a Mandingo band", an article about the band states.
One of the first songs the band made, Mo Jodi, turned out to be pivotal. It was inspired by the heroics of a major player in the fight against slavery in the French Caribbean, Louis Delgrès.
In 1802, this infantry colonel with the French Army, – in accordance with the revolutionary motto 'Live Free or Die' – chose death rather than captivity after rebelling against the Napoleonic troops who had come to reintroduce slavery. "The piece Mo Jodi (I'll Die Today) pays tribute to his sacrifice. As a result, the figure of Louis Delgrès was ever-present as the band slowly matured, to the extent that it seemed obvious they should take on his name" Pascal explains. Symbolically, this significant choice made it easier to express, via Creole, some private and collective feelings which had long been repressed since they were linked to such a destructive and still very murky period of history. There are feelings of anger at being rejected in Ramené Mwen, and of revolt in Anko. The exasperation generated by the powers that be refusal to listen comes through on Mr. President. And the results of a burst of self-respect and dignity can be heard on Respecté Nou. There is a form of discreet confession on Pardoné Mwen. And, the shattering emotion you feel when addressing a loved-one to whom you had no chance to say goodbye, features on Séré mwen pli fo, sung as a duet by Pascal Danaë and his loyal old friend, Skye Edwards from Morcheeba.
A number of songs on this initial album disclose a wound of some kind: an injury or a trauma which are entrusted to the healing power of the blues, one of the most universal and miraculous genres around.
But the miracle would not be complete without the soothing light-heartedness of Ti Mamzelle or the gentle fatalism of Chak jou bon dié fè (in English: Each Day the Good Lord Makes). Finally, let's not forget the spiritual stowaway on the rowboat as it braves the storm of a painful past to better confront future turmoil: Louise Danaë, Pascal's Guadeloupian great-great-grandmother, whose 1841 emancipation letter ended up in his hands. "It's the first time I have been able to shake off all these emotions so freely. So much so that Delgres, as well as being a fascinating musical and human adventure, has become a form of grief counselling…"
For the whole of this odyssey through time and across the five continents, the Dobro guitar acts as an intractable rudder, and its unique sound brings a primal tone to the music, a veritable seed of life which has spiced up the best recordings of Hound Dog Taylor, de Taj Mahal and J.J. Cale in the past. Delgres provides an exhilarating new viewpoint on this legacy. Building on Pascal Danaë's Caribbean touch, we have the powerful beat of Baptiste Brondy's drums and Rafgee's reptilian bass lines on the tuba. The fascinating music they produce is that of a unique power trio, akin to the Black Keys and Hanni El Khatib's work, somewhere between hypnotised rock, earthy soul and caustic garage. It is perhaps the final stage in the fertile Creole identity process, in which the philosopher Édouard Glissant believed he saw the promise of a new, less barbaric and more fraternal world.
​Francis Dordor (foto: press Delgres)