Looking back, it's impossible to over-estimate the significance of this moment of musical history.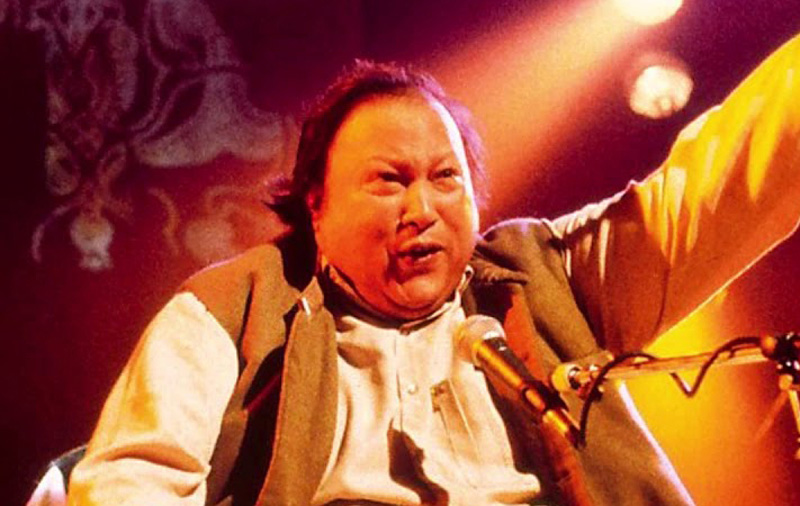 On the remote flat lands of Mersea Island in Essex in July 1985 an eclectic programme of music was unfolding at the WOMAD Festival. New Order appeared on the same bill as Tabu Ley Le Rochereau, The Fall and Penguin Café Orchestra— it was a remarkable line up.
At midnight on Saturday night July 20 Nusrat Fateh Ali Khan and Party took to the stage. The group sit cross-legged in two rows and for some minutes there is a silent pause. What unfolded over the following hours stunned the audience. And it impressed upon Nusrat his remarkable skill at communicating with audiences from a different culture and language and with no understanding of the deep and ancient traditions of qawwali music. Singing to a non-Asian audience for the first time this music transcended barriers and lead to long and successful relationship with WOMAD and Real Word Records and Peter Gabriel, until Nusrat's death in 1997.
Until now this remarkable concert has been locked in archives, unheard for 34 years. The original analogue tapes have now been carefully restored and digitised. Much work has taken place at Real World Studios to regenerate the live experience, which will now be released on this, the 30th anniversary of Real World Records.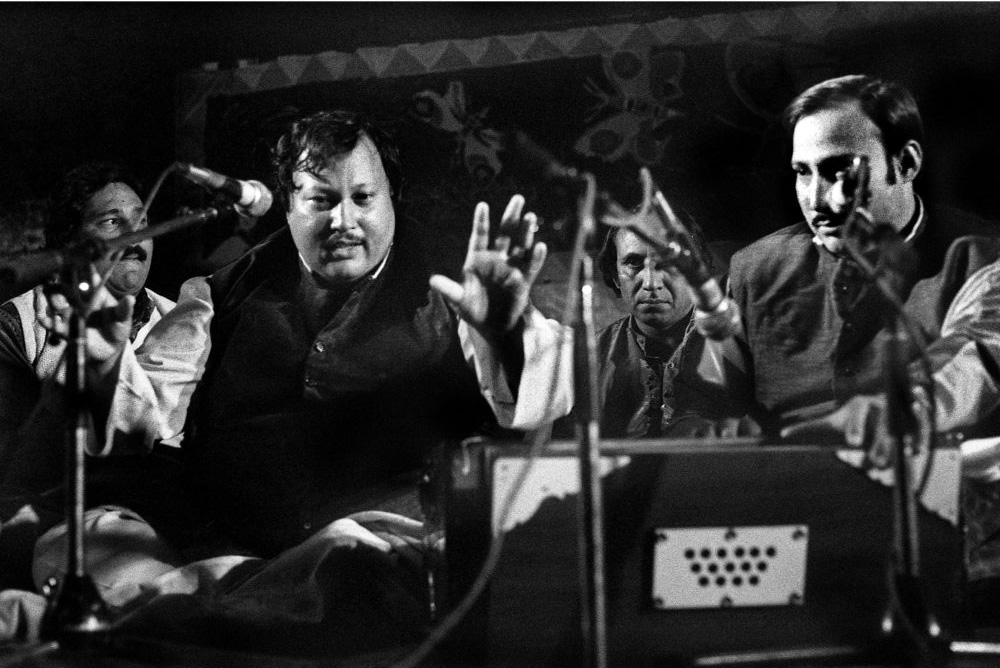 The power and beauty of Nusrat's voice comes rushing back through the years and lifts us up to the ecstatic heights of Sufi expression.
From the backing of rolling harmonium and chattering tabla the melody gradually evolves— slowly at first and then with building intensity. The hypnotic, improvised cycles of call and response between the singers reach fever pitch. Nusrat's rich and soulful voice has never been surpassed in the world of qawwali music.
Four of the finest songs from this concert have been selected for this release. This is a live recording— raw and visceral. The songs extend and grow in a way that rarely happens in studio recordings. It includes a full-length 21-minute version of the iconic song 'Allah Ho Allah Ho'.
Real World Record (foto: archive)