Plaza Francia Orchestra - Plaza Francia Orchestra (Because Music, 2018)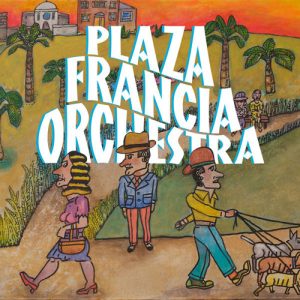 Plaza Francia's first album A New Tango Songbook (2014) featured twelve songs fronted by the remarkable Catherine Ringer, lead singer of the Les Rita Mitsouko, one of the most famous and influential bands in the history of French rock music. "She's very tango," says Eduardo Makaroff, co-founder of Plaza Francia with Müller. "A real personality, very emotional!" The album was a critical success and Plaza Francia v1 performed over 100 concerts, mostly in the Francophone world.
Now, Müller and Makaroff's instinct is to go deeper now, rather than sideways. Plaza Franciais mutating into the Plaza Francia Orchestra, an assemblage of the finest young tango musicians in Paris, which is another way of saying among the finest in the world. The core has been lifted from TAXXI (as in 'TA-ngo' of the XXI i.e. 21st century), the orchestra lead by bandoneon player Pablo Gignoli.
With Gignoli comes first violinist Anne le Pape, second violinist Aurélie Gallois, viola player Romain de Mesmay and cellist Veronica Votti. On piano there's Gignoli's long-time duetting partner Sebastian Volco, on double bass Romain Lecuyer and last but not least, Müller & Makaroff's old friend and collaborator Facundo Torres on bandoneon as well. The line up is completed by Paris-based singer Maria Muliterno, a very gifted young woman from Argentina, who Müller & Makaroff discovered singing Tangoes in the streets of Paris.
"They all have the spirit of tango", Müller says, "but with more of a rock energy." And that elusive X factor is already well and truly in place. "They already know each other by heart," Müller says. "The orchestra is the true main 'guest' of the new project" adds Makaroff.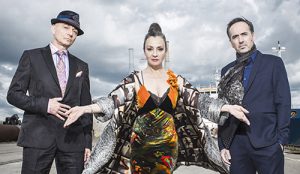 But tango, like rock or jazz, is a universeYou can have a tango film, a tango painting, a tango suit, a tango way of walking, a tango phrase, a tango thought. Plaza Francia have embellished their corner of this universe with works by the famous Argentinian painter Antonio Seguí. The martini dry humour of Argentinian comedian Pedro Saborido and smooth dark tones of TV personality Pancho Ibañez will also feature, as will guest vocals from Catherine Ringer and the Cap Verdean diva Lura, both as tango as they come. You can be Chinese and still be tango. And as has been the case since Gotan Project, the inspired lyrics of Sergio Makaroff will add depth and story to the music.
Through the aperture of the Plaza Francia – a real square in the chic Recoleta district of Buenos Aires that was built to celebrate the long-standing and often revolutionary friendship between France and Argentina, where Makaroff used to hang out with his counter-cultural mates, smoking weed and talking about a an altogether different revolution back in the 1970s – Müller and Makaroff are creating a multi-disciplinary portrait of their own 'tango' world.
You could even call Plaza Francia a 'concept', like Bootsy Collins's Mothership – an idea that blossoms into an entire world, where creative energy, raw sophistication, passionate elegance and careless melancholy cohabit and collide. A place where tango can live and breathe in all its multi-faceted glory. A place where time itself dances the tango and becomes human again.
NMR (photo: press Plaza Francia Orchestra)