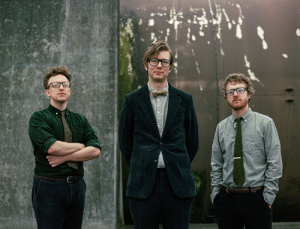 'The young men of Wales are finding, in the industry that employed their fathers and their grandfathers, there's a future – a secure future – in Welsh coal today' People Will Always Need Coal
Boasting of a 'secure future in Welsh coal' and 'having enough coal for another four hundred years', People Will Always Need Coal, the latest track from Public Service Broadcasting's new album Every Valley, offers a window into the world of Welsh mining in its heyday. Laced with dark irony given the events that were to unfold not ten years later, the track documents the recruitment drive to persuade more young men to dive into a career that offers 'money, lots of money, and security'. As the song unfolds to march climactically and 'confidently to what may lie ahead', an unsettling, foreboding feel undercuts an almost carnival atmosphere.
Speaking about the importance of the track on the record, J. Willgoose, Esq. explains:
'There's a really quite savage irony to this track when viewed with the benefit of hindsight – of a coal board with the confidence to assure people of safe, prosperous jobs in a strong and stable industry when they were only ten years away from the largest industrial confrontation of the UK's last fifty years and the decimation of careers, communities and livelihoods. It just goes to show how one age's absolute confidence can descend into instability and chaos in the blink of an eye, and how state-sponsored pronouncements of certainty should always be taken with a heavy pinch of salt. Also, I think it's quite a good song.'
Focusing on shining a light not just on coal miners but the disenfranchised everywhere and set against a backdrop of industrial decline, Every Valley is a story of dignity and social responsibility. The record sees J. Willgoose, Esq. take us on a journey down the mineshafts of the South Wales valleys, with the stories found there a black mirror to the plight of workers everywhere. The miners' stories have been transposed into a 21st Century of 'fake news', populist politics and a total disregard for the voiceless.
PSB release Every Valley on July 7 and follow it up with a busy summer of festival performances ahead of the North American, UK & European dates later in the autumn.
Foto: Pias