Quantic & Nidia Góngora - Curao (Tru Thoughts Recordings, 2017)
A new Quantic record is always a cause for excitement among the intrepid followers of dance music's worldly evolution. On this new material, prolific and influential producer/musician Quanticcollaborates with Colombian singer Nidia Góngora (who also features in his Combo Bárbaro and Ondatrópica groups) for a progressive and experimental take on the Pacific music of Colombia. Dance led and rhythmically complex, this modern take on a folkloric tradition brings a deep and cutting edge club sound.
Both songs here are original compositions and direct collaborations between Quantic and Nidia Góngora. Having collaborated a lot in the past, they wrote these songs with the express intention of being more tech-led, computer produced compositions than the organic live band-oriented material they have previously recorded together. This is a record based on the nuances and traditions of the music from the lower Pacific side of Colombia – a music normally referred to as 'Curulao' – and more specifically Gongora's home village of Timbiqui (the beautiful and unique location featured in the video for previous collaboration "Un Canto A Mi Tierra", off the 2011 Quantic and His Combo Barbaro album 'Tradition In Transition'). The use of a female vocal chorus, percussion from the region, and a Marimba accompaniment, adds to the colour of the sound and tips it more towards a pacific sound palette.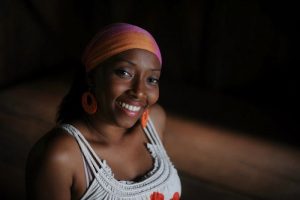 With typical Quantic perfectionism, these tracks have been honed over a period of months; initially conceived and written between the duo across a number of live soundsystem-style sets, they were then played out in numerous DJ sets to see how they worked in the clubs, and tweaked further to ensure the 6/8 rhythms and electronic treatment of the original folkoric styles came together just so.
These two songs are a taste of the sound that Quantic and Nidia Góngora are currently exploring in the development of her upcoming debut solo album. Góngora's songwriting talent, live presence and truly distinctive voice have made her a rising star. As well as being busy with her own folkloric group, Grupo Canalon, with whom she performed atWomex in Greece this year and at SXSW last year; she has also been performing as front-woman for Ondatrópica all through the summer. To add to this, her well-known version of the song "Memoria de Justino" with another band, Grupo Socavon, has been remixed by many a big name and cutting edge DJ, resulting in major airplay and mentions in the dance music press.
"The idea through these songs is to transmit the way we perceive music in Timbiquí, a place where we sing to everything and everyone. This is an extremely important action for us: to sing. For me it's more than the pleasure of it, but rather a need", says Góngora. Elaborating further on the themes of these two very lyrically driven songs: ""Ñanguita" is an expression used in my hometown to tell someone that you don't believe in their attitude or what they're saying … sometimes used to mock someone but without an offensive intention, and in other occasions used satirically or sarcastically. So "Ñanguita" is a song that I did as sweet way of making of fun of someone, through all the experiences and anecdotes of my town… "Muévelo Negro" is a song that describes sensuality and how a couple falls in love. Also, how they connect their souls and bodies through the movements generated by music. It shows how powerful music is, being capable of linking people on a physical and spiritual level.
The music of Will "Quantic" Holland has been key in the recent surge of interest in the UK in Cumbia, and other Afro-caribbean and Latin American styles. Having recently moved to Bogotá (from Cali, where he settled in 2007 on relocating from England), Quantic is currently putting the finishing touches to a new solo album for Tru Thoughts. A hugely anticipated release, this upcoming LP will be his first studio album under the 'Quantic' name in over six years, following an experimental period which has borne various commercially and critically successful projects including Quantic and his Combo Bárbaro, Ondatrópica and of course the 2012 Quantic and Alice Russell collaborative opus 'Look Around The Corner'.
Foto: archive