Che Sudaka - Almas Rebeldes (Cavernicola Records, 2017)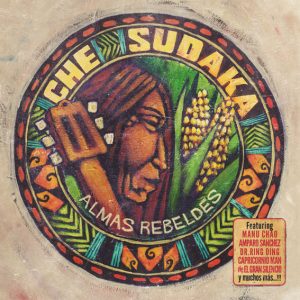 Three years have passed since the release of "Hoy", the latest studio-album of Che Sudaka, which has consolidated the group as an indisputable reference of Cumbia-Ska-Punk worldwide. In the midst of the celebration of the bands 15th anniversary, the four brothers from Argentina and Colombia announce the release of their 7th official studio-album, with a title that probably characterizes Che Sudakas essence better than any other: "Almas Rebeldes" (in English: "Rebellious Souls").
"This title is a greeting to all the souls who rebel against the feeling of impotence … and who struggle to keep thinking and feeling that we all are just one – despite the madness in
which society has been transformed today !!!" (Che Sudaka)
In this new work, Che Sudaka reviews all the adventures lived and shows its gratitude for the affection received. "Almas Rebeldes" takes stock without getting stuck in the past. It's a retrospective album that reunites ten of their "hits" taken from fifteen years. At the same time, it shows the bands present since all these "classics" have been recorded again in their own studio "Cavernicola Records" and are accompanied by three unpublished new songs. The album features artists like Manu Chao, Amparo Sánchez, Dr. Ring Ding, El Gran Silencio, Jupiter & Okwess and many more.
"Almas Rebeldes" reflects 100% the search for a very own authentic and recognizable sound: mixing Latin American folklore with Jamaican rhythms, punk attitude and the electronic tools of a sound system. The album will light up every dance floor and, at the same time, reflects on the state of the world and the human being… Che Sudaka remains true to its motto "Bailar pensando!" ("dance thinking")
Fifteen years of Che Sudaka are fifteen years of a constant (r)evolution of thoughts and feelings, a positive and collective energy, a global movement increasingly joined by rebellious souls. And this new album is the soundtrack of their lives!
Photo: Press Che Sudaka