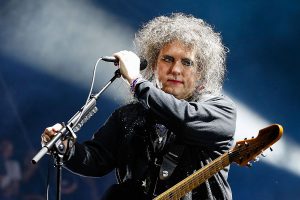 The 59-year-old musician has been inspired to write songs for what could be the band's first record in a decade, but he's worried about what it would mean if the follow-up to 2008's '4:13 Dream' doesn't come to fruition.
Asked if he would be disappointed if the group didn't make another LP, he told The Guardian newspaper: "I would now, yeah. Because I've committed myself to going into the studio and creating songs for the band, which I haven't done for 10 years.
"Meltdown has inspired me to do something new because I'm listening to new bands. I'm enthused by their enthusiasm. So if it doesn't work, I'll be pretty upset, because it will mean that the songs aren't good enough."
Smith was inspired to write again after curating this year's Meltdown festival – with a lineup featuring the likes of Manic Street Preachers and Nine Inch Nails – and will close the 10-day event by performing as Cureation 25, which will feature previous band mates and special guests. Next month, The Cure – completed by Simon Gallup, Roger O'Donnell, Jason Cooper and Reeves Gabrels – will headline Hyde Park, and he promised each of the shows will have a very different feel.
He explained: "Meltdown's going to be doom and gloom and Hyde Park's going to be hands in the air."
Smith admits the reason there has been such a long wait for new material from the band is because he's struggled to find inspiration to create songs. The 'Just Like Heaven' singer admitted: "I've hardly written any words since then. I think there's only so many times you can sing certain emotions. I have tried to write songs about something other than how I felt but they're dry, they're intellectual, and that's not me."
NMR