We will broadcast the February Transglobal World Music Chart on February 3, 2021 at 8pm.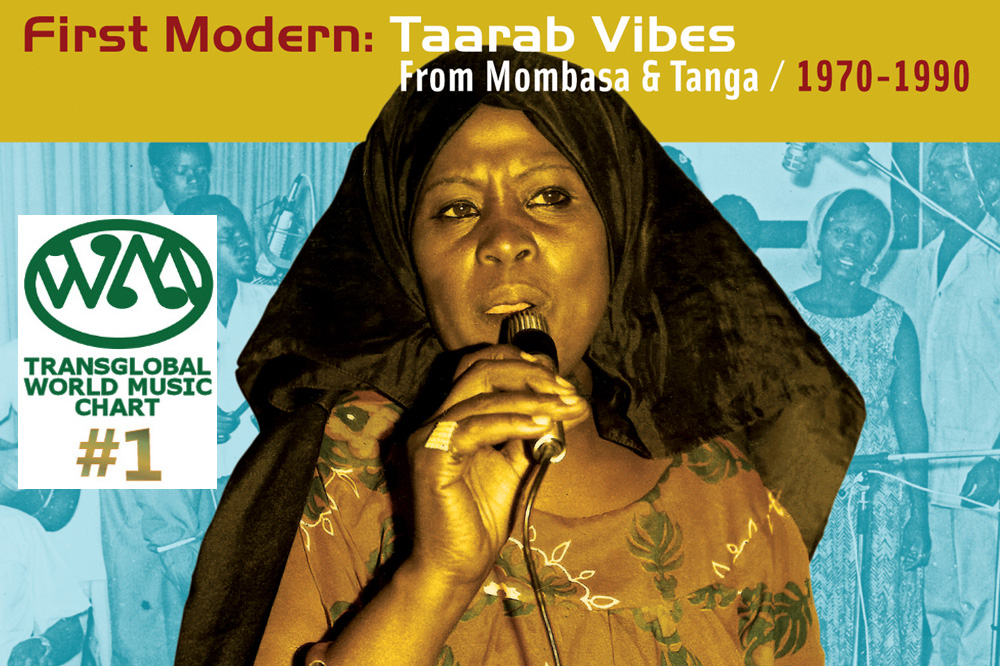 Compilation "Zanzibara 10: First Modern, Taarab Vibes from Mombasa & Tanga, 1970-1990" is at the top of the charts this time.
Taarab is a music genre popular in Tanzania and Kenya. It is influenced by the musical traditions of the African Great Lakes, North Africa, the Middle East, and the Indian subcontinent.
In the early 1970s a new taarab emerged in the East African coastal cities of Mombasa and Tanga: In Mombasa, Matano Juma's Morning Star replaced strings with distorted organ sounds, amplified violin or clarinet; Zuhura Swaleh promoted an electrified tashkota as a major new sound in her band, digging deep in coastal ngoma rhythms and dances. Crossing the border from Kenya to Tanzania, in Tanga, Black Star Musical Club's electric guitars and dance music rhythms paved the way for a broader audience reception of taarab away from the coastal Swahili towns.
Mombasa was at the forefront of taarab production from the 1960s to the 1990s, thanks in no small measure to the enterprising Mzuri record label.
They would not just record and promote Mombasa based artists, but also invite groups from Tanzania like Black Star or Dar es Salaam's Egyptian Music Club. In the course of the 1970s records were displaced by the cassette and the initiative moved to Mbwana Radio Service in Mombasa's Old Town, soon the new center of taarab production and distribution. Taarab rose to new heights in the 1980s with the voices and hits by Malika and Golden Star's Mwanahela.
With the economic and political crisis in Kenya in the early 1990s and the concurrent rise of Dar es Salaam as the new center of music production in East Africa, Mombasa began to fade from its position as the prime taarab center.
The early 1990s saw the rise of so-called modern taarab, a new style based on drum machine rhythm, powerful sound systems, and a novel fashion of inciting and insulting lyrics. Nevertheless, the musical innovations of Matano, Zuhura and Black Star opened up new vistas early on; and Malika's and Golden Star's lyrics paved the way for what was to come in the 1990s. In recognition of this, taarab from the Mombasa – Tanga era is now affectionately known as "First Modern".
Top albums February 2021:
V.A. · Zanzibara 10: First Modern, Taarab Vibes from Mombasa & Tanga, 1970-1990 · Buda Musique (-)
Liraz · Zan · Glitterbeat (1)
Elida Almeida · Gerasonobu · Lusafrica (5)
Wowakin · Wiązanka · Baba Studio (2)
Sofia Labropoulou · Sisyphus · Odradek (13)
Derya Türkan & Sokratis Sinopoulos · Soundplaces · Seyir Muzik (4)
Tara Fuki · Motyle · Indies Scope (14)
Las Lloronas · Soaked · Muziekpublique (40)
Stella Chiweshe · Ambuya! · Piranha (-)
Songhoy Blues · Optimisme · Transgressive / Fat Possum (10)
Luedji Luna · Bom Mesmo É Estar Debaixo d'Água · Luedji Luna (-)
Zedashe · Silver Sanctuary · Electric Cowbell (11)
Sutari · River Sisters · AAUU (18)
Star Feminine Band · Star Feminine Band · Born Bad (8)
Eliseo Parra · Cantar y Batir · Dalamix (15)
Tao Ravao & Vincent Bucher · Piment Bleu · Buda Musique (-)
Kronos Quartet · Long Time Passing: Kronos Quartet & Friends Celebrate Pete Seeger · Smithsonian Folkways Recordings (3)
Hallelujah Chicken Run Band · Take One (1974-79) · Analog Africa (32)
Afel Bocoum · Lindé · World Circuit (7)
Lajkó Félix Band · Start · Fonó (-)
Tündra · Voces del Desarraigo · Tündra (21)
The Rheingans Sisters · Receiver · Bendigedig (6)
Coco's Lunch · Misra Chappu · Coco's Lunch (9)
Sväng · In Trad We Trust · Galileo Music Communication (25)
Marjo Smolander · Cosmologies · Marjo Smolander (-)
Sara Vidal · Matriz · Sons Vadios (26)
Bará · Bolo Saba · Homerecords.be (30)
Izouran N-Sahara · Tisnant · Hit The Road Music Studio (-)
Vetka · Gorsti · Vetka (-)
A Cumpagnia & Trio Sospirata · Mare Nostrum · Casa Editions (-)
Azmari · Samā'ī · Sdban Ultra (-)
Gájanas · Čihkkojuvvon · Bafe's Factory (-)
Ayom · Ayom · Amplifica / Flowfish (29)
Djely Tapa · Barokan · Label 440 / Disques Nuits d'Afrique / DT Productions (17)
Nakany Kante · De Conakry a Barcelone · Kasba Music (19)
Bantu · Everybody Get Agenda · Soledad Productions (12)
Melisa Yıldırım & Gilad Weiss · Talûş · Khalkedon Music (-)
Modeste Hugues & Kilema · Ala Maintso / Green World: Songs from Madagascar · ARC Music (33)
V.A. · Muzyka spod Radomia · Muzyka Zakorzeniona (-)
Staritsa · Klyukva · CPL-Music / CPL-Musicgroup (-)
NMR