GROUP DOUEH & CHEVEU – DAKHLA SAHARA SESSION ( BORN BAD RECORDS 2017)
On the one hand, there's Cheveu, the French three-member band, whose soundtrack has never ceased to question music codes by exceeding various genres and pushing back their limits. On the other hand, you have Group Doueh, a combo coming from the Sahara desert (Dakhla). Their music spans across many styles and hammers tradition with unprecedented finds.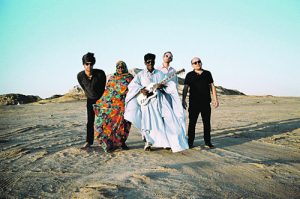 In between both their remote musical universes dwells a sound clash. It embodies the meeting between two arts of living music day by day, two ways of transmitting, of enchanting the world or refusing to do so, of exploring the repertoire as well as tradition and creation, two visions of the collective – the list of reasons why these guys should have probably never met or could have failed to get along is quite extensive.
This piece was recorded in 2 weeks in Dahkla in January 2016. The mere project seemed like a surreal challenge, something that was almost impossible to achieve and for which time was going to hold major importance. It brought about a telluric big bang, an atomic creation, a story of primitive energies setting the record straight in the whole world. That is, two radically different understandings of time.
Photo: Born Bad Records