No African musician has made an impact at home and on the international imagination like the great Malian guitarist, singer and spiritual father of the Desert Blues, Ali Farka Touré.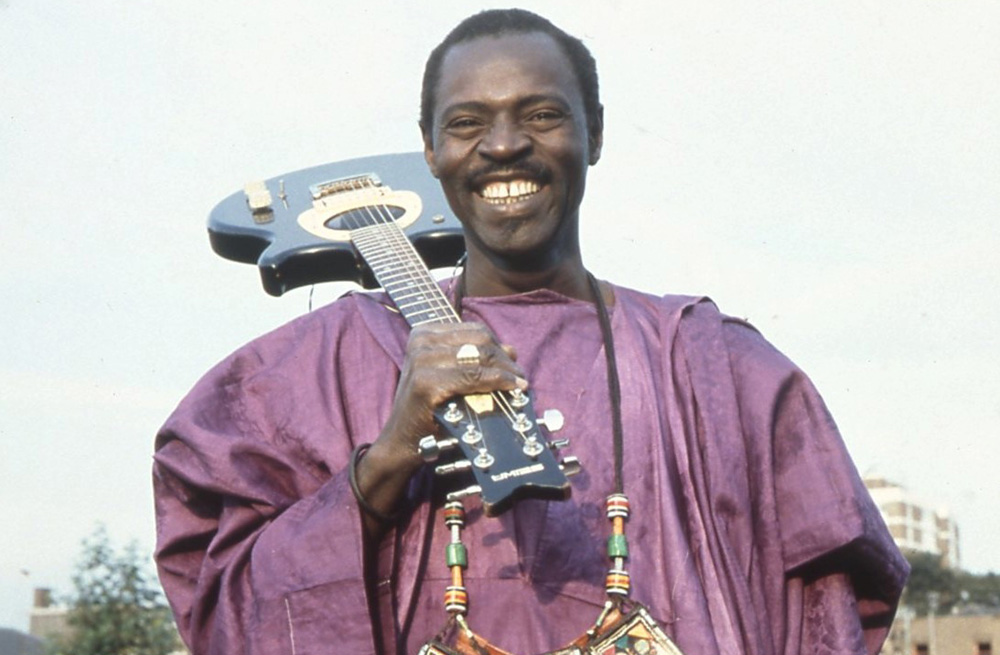 ---
From Grammy-winning collaborations with Ry Cooder and kora maestro Toumani Diabaté to gritty lo-fi recordings made in his remote home village, Ali's inimitable voice and hypnotic guitar playing communicates with listeners with an authority that transcends boundaries of markets, fashions and genres. Ali in person more than lived up to his music: an imposing, even regal figure, with a magnificent smile, an unassailable confidence and a mischievous sense of humour. Sixteen years on from his death, Ali remains a towering figure, one of a handful of great talents – alongside Jimi Hendrix and Fela Kuti – whose music feels perennially vital and relevant, whose charisma burns as brightly after their passing as it did in life.
Now World Circuit is releasing a new album of never before heard musical gems: privileged moments captured spontaneously, on the road and in the studio, between sessions for other albums. Sung in five languages, the songs on 'Voyageur' were all of immense personal importance to Ali. They reflect his passionate commitment to the creativity and cultural diversity of his homeland, and a life spent in motion, as a traveller – a Voyageur – between the desert stages of Timbuktu, studios of West Hollywood, the concert halls of London and Tokyo, and tiny villages strung out on the Malian riverside, where Ali was – of course – known by everyone.
From pared back, mesmeric grooves in Ali's signature Sonrhaï style to anthemic fishermen's choruses, pulsing hunters' rhythms and an African "noise band" of reverb-laden guitars and lutes, Voyageur showcases a secret store of songs which Ali built up through his long and varied career, shedding new light on an extraordinary and enigmatic talent.
When copies of Ali Farka Touré's LPs began appearing in specialist Western record shops in the mid-Eighties, connoisseurs and critics were astounded at the sheer intensity of his vocal delivery and intricate groove-laden guitar playing. To the unsuspecting Western ear Ali's sound appeared electrifyingly novel: evocative in its raw sparseness of remote arid landscapes – specifically Ali's semi-desert home region of northern Mali – yet, unmistakably redolent too of the blues. The idea of the African origins of the blues has always beguiled and perplexed blues fans and musicologists: a self-evident fact that is difficult to pin down in concrete musical examples. In Ali Farka Touré, however, Africa and the blues came together in one immediately compelling figure.
While he was amused to be associated with the most influential popular musical form of the 20th century, he saw his music primarily as local, a representation of the ancestral spirit music of his Sonhraï people and other traditional Malian music in its purest form, unadulterated by any external influences. "The word blues does not exist in my music," he said, "It is a Western phrase. I play authentic music; the roots of what you would call the blues."
Ali was born in 1939, near the northern Malian village of Niafunké, close to the edge of the Sahara desert in the Timbuktu region, which became Ali's home base and a spiritual constant in a life spent frequently on the move. The people of Niafunké maintain a powerful belief in the spirits of the River Niger, the ghimbala, who can affect the lives of humans for good or ill. While Ali wasn't from a musical family he loved the music heard at spirit ceremonies and made himself a "djerkel", the single-string guitar heard at these events. When he fell ill as a youth, believed possessed by spirits, he was sent to a neighbouring village to be cured. He returned after a year with both his spiritual and musical capacities greatly enhanced leading to a lifelong conviction that music was a spiritual gift, linked to traditions he had a responsibility to respect and perpetuate.
Ali was the tenth child of his mother but the first to survive infancy
He was given the name 'Farka' meaning donkey, an animal admired for its strength but as he himself made clear he was "the donkey nobody climbs on". He had no formal education, having spent his childhood helping his parents in subsistence farming, but he got work as a car mechanic, taxi driver and river ambulance pilot, all of which involved a considerable amount of travel, bringing him into contact with other Malian cultures and their music. By his early twenties, he was fluent in seven Malian languages, and proficient in numerous traditional instruments.
Seeing a performance by the National Ballet of Guinea in 1956 gave Ali his first encounter with the western acoustic guitar, and the conviction that he must master this instrument himself. Playing on borrowed instruments he began transposing his traditional single string technique to the unfamiliar six strings. With no teacher, he created a revolutionary new way of playing. After honing his style, he developed a taste for a range of imported music, from Afro-Cuban rhythms that were then hugely popular throughout Africa to American rhythm and blues, including James Brown, Albert King, Otis Redding and John Lee Hooker (the artist to whom he was most frequently compared). He felt that "this music has been taken from here" and Hooker's records felt so familiar to Ali that he was surprised to hear them sung in English rather than a local Malian language.
While gradually building his own reputation as a singer and guitarist, he worked as a recording engineer for radio Mali throughout the seventies, taping musicians all over the vast land-locked country. This experience expanded his already extensive knowledge of traditional Malian music in all its melodic, rhythmic and linguistic variety, and led directly to several of the songs heard on 'Voyageur'.
While at Radio Mali, he recorded seven albums of his own music that were released on the Paris label Son Afric, which cemented his reputation at home and eventually brought him to the attention of DJs and journalists in the West. Anne Hunt of the World Circuit label made a journey to Mali to find Ali, then in semi-retirement. The encounter led to rapturously received concerts in London in 1987, to extensive international touring over the following years and to a string of acclaimed albums for the label.
The fourth of these, the Grammy-winning Talking Timbuktu with Ry Cooder brought Ali a new, more mainstream Western audience excited by the effortless instrumental chemistry between the two guitarists. The experience of working in America, however, seemed to precipitate a spiritual crisis in Ali. He withdrew to his home village, became more focused on his farming activities, and was eventually made mayor. He only agreed to make the 1999 album Niafunké if it could be recorded in the village.
Ali returned to performing and recording in the early 2000s, including two Grammy-winning albums with kora master Toumani Diabaté, and Savane, his final studio album, on which he expressed his feelings about the deteriorating state of his beloved savannah region, released after Ali's death from bone cancer in 2006.
Ali's mystique shines on brightly, inspiring listeners around the world and a host of illustrious admirers, including Robert Plant, actor Matthew McConaughey, who based his famous humming chant in the Wolf of Wall Street on one of Ali's rhythms, and Texas indie-rockers Khruangbin, who recently recorded a collection of Ali's songs in company with his son Vieux. At home in Mali, Ali remains enormously important: a unifying, near mystical figure, and the only musician to be commemorated with a statue. An annual three day festival curated by Vieux further celebrates his legacy.
Since Ali's death there's been a growing sense that his music is best understood not in relation to other styles – not even the blues – but as the product of a single uncompromisingly individual talent, who represented both a tightly defined local tradition and an entire culture.
Voyageur is the album that best coveys the sense of Ali as guardian and gatekeeper of Malian culture, a collection that is both his most pan-Malian and in many respects his most personal.
---
Safari (Medicine) is classic Ali in his signature Sonrai mode, his charged vocal underscored by a propulsive calabash rhythm and the ghostly whir of a Fula flute, as Ali boasts that that he has the "medicine", the guidance necessary to cure "bad behaviour". The one-string riffing of the djerkel guitar used in spirit-possession ceremonies is transposed to a ringing, open-toned electric guitar. On Cherie (Darling), one of three tracks where Ali is joined by the great Wassoulou diva Oumou Sangaré, the kamelngoni – hunter's harp – gives a wonderful elastic swing to Ali's slippery guitar riff, as the two voices chime off each other in perfect sympathy.
Sambadio, a Fula song in praise of farmers, is heard in two versions: acoustic with a beautifully loose campfire feel powered by the insistent ngoni plucking of maestros Bassekou Kouyate and Mama Sissoko; electric with a wonderful jazzy sax arrangement from James Brown-sideman Pee Wee Ellis. Sadjona (The Weight of Fate) is a traditional song for Wassoulou hunters, spontaneously repurposed by Oumou Sangaré as a paean of praise to Ali during a microphone check. The sheer invocatory urgency of her vocal is given fantastic momentum by the bounding kamelngoni groove before a haunting sax-part comes floating into the mix, in one of those inspirational, accidental musical moments it feels a privilege to hear.
On the rapturous closer, Kombo Galia (Uncle Galia), a song in praise of the Bozo fishermen "who have mastered the spirits of the river", an uproarious chorus soars over an African "noise band" of distorting guitars and buzzing ngonis to truly entrancing effect.
These songs, part of what producer Nick Gold describes as a "precious, private archive", were revealed by Ali sparingly, at times apparently grudgingly to Gold over a period of 25 years. And Ali knew exactly what he was doing: that by feeding these songs gradually through to Gold they would one-day, God willing, reach a global audience; though even then Ali liked to keep things on a knife-edge. Several of these songs were aired completely spontaneously between takes on other songs. Thankfully the tapes were rolling, or much of the music on this marvellous album might never have been heard.
Mark Hudson (foto: Dave Peabody)