ALPHA BLONDY – HUMAN RACE (WAGRAM MUSIC 2018)
Since his first success in the eighties with the panafrican hit « Opération Coup De Poing (Brigadier Sabari) », Alpha Blondy is used to provide quality reggae music to his fans. And it is the case once again with Positive Energy, a true masterpiece. « Really, it's the album of the featurings! » says Alpha to describe this collection of twelve new songs.
And indeed, some brilliant guests are aboard on this journey: two Jamaicans (Ijahman on « Rainbow In The Sky » and Tarrus Riley on « Freedom »), the zouk master Jacob Desvarieux on « N'Teritche » and a promising young congolese singer, Pierrette Adams, on « Séchez Vos Larmes » (« Dry Your Tears »). Plus an amazing trio on « Allah Tano »: Nawfel from Tunisia, Issam from Marocco and Ismaël Isaac from the Ivory Coast. A strong song dedicated to Alpha's grandmother, and a very spiritual one too: « It shows that Islam isn't the private property of a few violent persons. Just to say that you can speak about God and about love without necessarily shedding blood », says Alpha.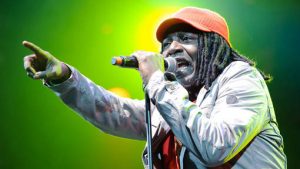 If spirituality is as usual Alpha's weapon of choice, the anger is here as well. Whether it's on « Séchez Vos Larmes » (« You don't beat hunger with missiles ») where the singer fights political men who prefer to advocate war rather than to feed the masses, or on the very strong tune « Maclacla Macloclo ». « It's the "coup d'état" that never stops. Presidents always do the same stupid things and the international community is their accomplice because it validates that. Dictatorships and tyrannies that we have to endure are a bit because of its attitude. Democratic genocide, democratic torture: we bombed Lybia saying its leader wasn't a democrat, and all hell broke loose. Same thing in Irak: we bombed the pro Saddam and the anti Saddam alike. Lumumba and Sankara were murdered "democratically", and there are many more examples. In the name of Democracy, all the atrocities are allowed. In Africa, when we hear the word "Democracy", we hide under the bed because we know there will be blood! »
Olivier Cachin + NMR (foto: press)