5 Nizza - ky (Lavina Music, 2017)
5'Nizza were a Ukrainian duo whose minimal acoustic sound combined elements of reggae, hip-hop, soul, folk-rock, and Latin music. The duo, whose moniker means "Friday" in Russian, formed in 2000 in Kharkov, and consisted of guitarist Sergey Babkin and singer Andrey "Sun" Zaporozhets. Their easygoing, laid-back tunes featured sung and rapped vocals as well as beatboxed drums. The duo's demo, Unplugged, which featured a cover of Bob Marley's "Jammin'," surfaced in 2002 and was heavily bootlegged across Russian-speaking countries.
5'Nizza's official self-titled debut, containing re-recorded versions of many songs from their demo, was released by Grand Records in 2003, and greatly expanded the duo's popularity. O5, the duo's official second album, followed in 2005 and featured more sophisticated arrangements, including some electric guitar and Rhodes piano. The album was not as successful as their previous release, and the duo disbanded in 2007. Sessions for their third official album ended up being released as the debut by Zaporozhets' subsequent band, SunSay.
In 2015, 5'Nizza reunited for a tour and recorded a few new songs, which were released as the third disc of All in One, a retrospective containing both of the duo's albums.
Let`s remember how the epoch of 5`NIZZA has came? In 1994 at Kharkov Art Lyceum Sergey Babkin has made the acquaintance of Andrew Zaporozhetc. They sang songs in student`s hostel where boy`s friends had been living. So such performances we may consider as theirs first steps in music.
The success was on the watch for Segrey and Andrew in the person of Edik Shumeiko ("Shum")on KaZantip Republic. Performances that guys gave were a cup of tea both for Shum and Z-audience. "So why don't you try to give a few concerts in Moscow?" – proposed Shum. The result surpassed all imaginations!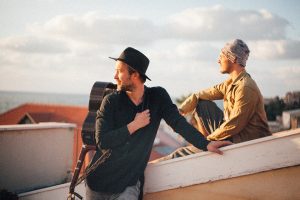 The first informal album had been recording for $30 and all the copies were sold almost immediately, in spite of the fact that edition was great! The official album was updated with bonus-tracks. The second album, which guys has recorded it in 2004 was less prosperous. And the third one…
The recording of the third album was planned on 2007 and it became a bone of contention for band. Guys decided to make an experiment: every song should be complemented with a special musical instrument and the scheme flaked out. 5`NIZZA had lost the typical atmosphere and style, so musicians put a period to the acoustic duet band.
For 10 years 5`NIZZA had been living in sounds of next-door guitar, in the memory of those who were growing up with Babkin and Zaporozhetc. For 10 years guys watched on music trends and changes in art life, staying in the background. 2017 will be a year when Sergey and Andrew great us again with "KY"! 5`NIZZA musicians have made the album, which brings you back to the atmosphere that inaugurated an era of 5`NIZZA many years ago.
(Foto: 5'Nizza)