Afro Celt Sound System - Flight (ECC Records, 2018)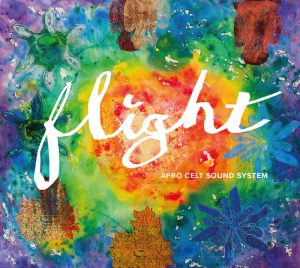 ECC Records are now delighted to announce the release of 'Flight', the 8th studio album by this ground-breaking collective. 'Flight', released on 23rd November 2018, will be supported by a major 10 day UK wide tour (November 2018, including London's Barbican Centre on 21st) and explores themes of migration – both human and avian – with a dazzling cast of stellar musicians from around the globe.
With album sales now topping one and a half million and two Grammy nominations to date, Afro Celt Sound System celebrated their 20th Anniversary in 2016 with an acclaimed album, The Source, which fRoots Magazine described as 'a colossus of an album'.

Afro Celt Sound System have invited three other large collectives to join them on this album and by doing so, shine a spotlight on migration, with a particular focus on refugees. These include the Amani Choir whose music director Emmanuela Yogolelo came to England from the Democratic Republic of Congo and has a refugee background. The album also features Stone Flowers, the band supported by Music Action International, a charity who helps transform lives affected by war, torture and armed conflict through music and song, alongside the Johannesburg based African Gospel Singers.
The album also references the environment and is in part inspired by ECC Records owner's Simon Emmerson and Mark Constantine's shared passion for bird-watching. 'Flight' is perhaps Afro Celt Sound System's most overtly political album and draws from Armagh-born vocalist and flautist Ríoghnach Connolly and Emmanuela's work within the refugee community of Manchester and across the north west of England.
Formed by Grammy-nominated musician and record producer Simon Emmerson, Afro Celt Sound System is a European and African based collective which has forged a reputation for energetic, uplifting shows. Winners of the Songlines 2017 Best Group award, they combine folk traditions of different cultures in a unique and innovative way.
11 self-penned and 2 traditional tracks on 'Flight' introduce moving devotional songs alongside Afro Celt Sound System's trademark driving afro house, with drum and bass beats, bold west African brass and exuberant electronic rhythms and bass lines. Central to the album is a 4-part 'migration' medley' drawing parallels between bird and human migration and ending with Ríoghnach's embracing lament. Recorded for the 1st time in the band's career as a live studio performance, it's the closest they've got to capturing the dynamic of the gigging band in a studio; gone are the loops and samples that used to provide the backdrop to the band's sound, now replaced by the passionate performances which make the bands live shows so exhilarating and distinctive. The first single from the album is 'Sanctus' reworked from the original recording by a Congolese children's choir in 1958 and featured in Lyndsey Anderson's seminal film 'If'. 'Sanctus' features Afro Celts with the Amani Choir on their debut studio session.
Simon Emmerson is joined by long-term members' vocalist, kora and balafon player N'faly Kouyaté and Dhol Foundation drummer Johnny Kalsi but both album and tour will feature contributions from more than 17 musicians and at selected gigs will also include the Amani choir. This host of outstanding musicians include Ríoghnach Connolly; off-grid Highland Crofter, Griogair (vocals and highland pipes); Amani Choir MD Emmanuela Yogoelo; bodhrán player and percussionist Robbie Harris and Malian master drummer and percussionist Kalifa Knoé. Bass is provided by Mass, Simon 'Palmy' Richmond, Richard Evans and Simon Emmerson. The pipe, fiddle and flute tunes are all original and performed and written by Scottish Fiddler, Ewen Henderson, County Mayo Piper, Emer Mayock and flautist, Ríoghnach Connolly. As well as the Amani choir, the band are also joined on 'Flight' by very special guests, Stone Flowers, The Kick Horns and the African Gospel Singers
'Flight' was recorded in more than 13 studios in Africa and Europe and is written, arranged, engineered and mixed by Afro Celt Sound System collective. The executive producer is Mark Constantine and the album is released on his and Emmerson's label, ECC Records. Label artwork has been produced by Jamie Reid, legendary punk artist, cultural activist and ACSS founding member.
ECC Records + NMR (photo: R. Marrison)