Guinean-Bissau-born guitarist, percussionist and balafon player Kimi Djabaté is one of the great hopes of contemporary African music. His fourth album "Dindin" is being released these days.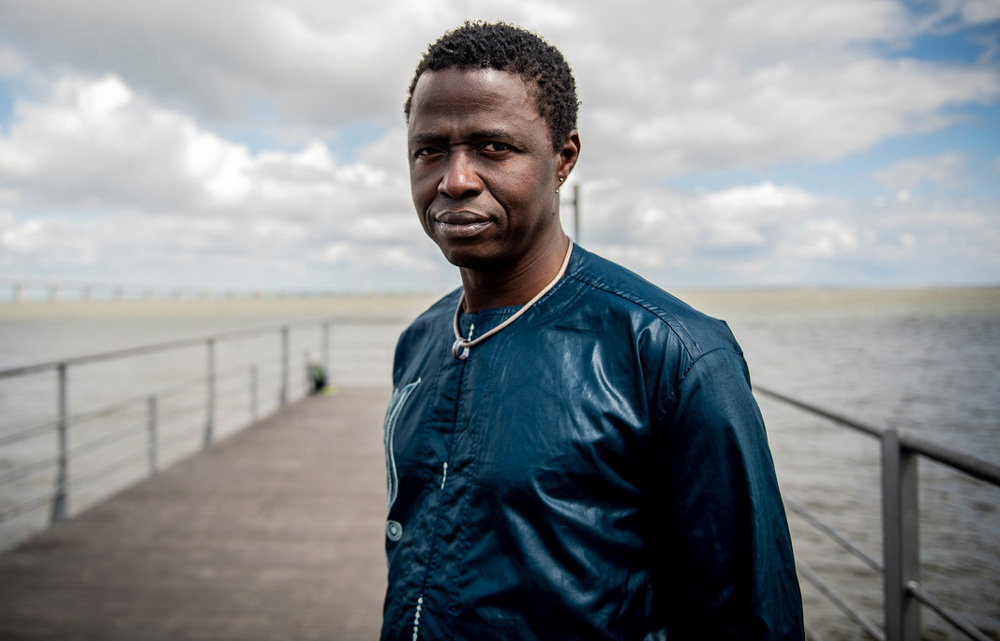 ---
Kimi Djabaté was raised in Tabato, Guinea-Bissau, a village known for its griots, hereditary singer-poets whose songs of praise and tales of history and legends play an essential role in Africa's musical life. Centuries ago, Djabaté's ancestors, a wandering troupe of musicians from Mali, traveled to the region and the king of Guinea so loved their songs he invited them to stay and offered them the territory of Tabato. Ever since, the area has been a recognized center for music, dance, handcrafts and other creative arts.
Soon recognized as a prodigy, Djabaté began playing at weddings and baptisms at the age of eight and was sent to a nearby village to study the kora a few years later. His early introduction to a variety of traditional instruments laid the foundation for his later mastery of the guitar and skill with a range of percussion instruments. In 1994, when he was just nineteen, Djabaté joined the national music and dance ensemble of Guinea-Bissau on their tour of Europe.
Now based in Lisbon, Djabaté has collaborated with Mory Kanté, Waldemar Bastos and Netos de Gumbé, and, most recently, the pop star Madonna on her single "Ciao Bella."
Dindin means "children" in Mandingo
New album is both highly personal, featuring intimate songs dedicated to family and friends, and undeniably universal in its themes of love, communication and human connection. Blending traditional Afro-Portuguese rhythms with Afrobeat grooves, and electric desert blues, Djabaté weaves a unique tapestry of smooth and intricate sounds.
This album joyously fuses traditional Mande styles and the gumbé rhythms of Guinea-Bissau with contemporary jazz and rock guitar tropes over which Djabaté sings in a gentle and alluring baritone, reminiscent of another fine Lisbon-based singer from Guinea-Bissau, Manecas Costa.
The grooving vibe of the opening track, "Afonhe" exclaims, with a universal appeal, that you should open up, tell us about yourself, what you think, feel and want. By being true to oneself, everything is going to be fine. It's a fine way for the charismatic Kimi Djabaté to pull us right into his music.
In an effort to inspire change, "O Manhe" addresses the tradition of forced marriage. The hopeful, optimistic plea of the title track declares, "Don't exploit children. Help children become better human beings. Don't exploit children. Educate them." But, Djabaté seems especially moved when jubilantly singing a love song "Alidonke" accompanied by prominent electric guitar riffs and an alluring beat.
Djabaté's magical songs remain uplifting and hopeful even as they reflect on contemporary struggles and challenges. An expression of his griot roots, he pays tribute to the people, soul and spirit of Africa that is at the heart of his music
NMR (foto: press Kimi Djabaté)