Kries – Selo Na Okuke / Village Tracks (Riverboat Records 2018)
Kries means bonfire in an old Croatian dialect; an apt name for a band who burn barriers, mixing modern and traditional Balkan instruments to give new life and meaning to age-old songs. Kries founder Mojmir Novaković has a voice that's a force of nature – elemental and timeless. At 6'5 and whip thin, he cuts a mythical figure as he powerfully sings Balkan traditional songs. In the hands of the seven-strong band that mixes modern and traditional instruments, the age-old songs transcend borders of time and place. Selo Na Okuke / Village Tracks packs an uplifting, emotional punch that connects with us all.
Novaković was one of the first people in Croatia to mix its traditional music with modern forms and it's impossible to overplay his and Kries' iconic status in the country. The band's cutting-edge production values and musical influences – from Radiohead, Brian Eno and The Velvet Underground to hip hop – create a unique and exhilarating take on the tradition.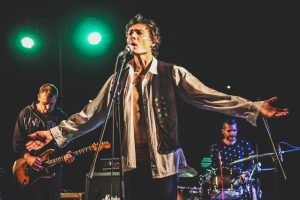 Multi-instrumentalist Ivo Letunic looks like a young rock God, but is highly acclaimed for his extraordinary virtuosity on the lijerica. He is joined by Andor Vegh, a leading authority on Balkan folk music and one of the most brilliant exponents on traditional bagpipes. This traditional element seamlessly combines with driving drums, bass and guitar with powerful effect!
Kries formed over ten years ago. Coming from different areas in the Balkans, including Croatia, Hungary, Bosnia and Slovenia, they bonded over a shared desire to celebrate diversity whilst promoting a sense of unity that had been destroyed by the war in the 1990s. They are dedicated to sourcing local songs that connect them to their roots whilst providing a view of the world far beyond their town or village.
Selo Na Okuke / Village Tracks is the bands third album and their first on Riverboat Records. It benefits from the songs becoming perfectly honed through live performances over the last eight years since their last album. In that time, they have developed a profound intuitive musical interconnection. Inspired by one another they are each free to improvise and to realise their own creativity within the music. So, when they got together to record these songs in Dubrovnik's Marin Drzic Theatre they needed little rehearsal before capturing a live sound in a beautiful acoustic space.
NMR (photo: press)