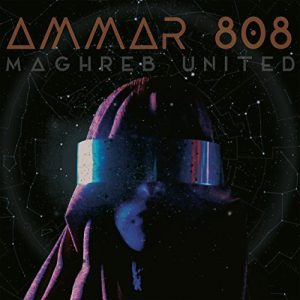 Ammar 808 – Maghreb United (Glitterbeat Records 2018)
Deep TR-808 bass meets pan-Maghreb beats, timeless voices and futurist visions. AMMAR 808 is Sofyann Ben Youssef, the sonic mastermind behind the Tunisian sensation: Bargou 08.
The future is right now. We have driverless cars, robots taking over jobs, and commercial space travel is on the event horizon. Somehow, humanity has slipped into a science fiction life. But you can't have a future without a past, something AMMAR 808 knows very well. On his debut release, Maghreb United, featuring the singers Mehdi Nassouli (Morocco), Sofiane Saidi (Algeria) and Cheb Hassen Tej (Tunisia), he connects the two to offer a radical, electronic reinvention of ancient North African music.
"The past is a collective heritage," explains AMMAR 808. He started the project a year ago, after working with the lauded Bargou 08, searching for something to link the sense of what has been with what will be. "It's what we all call on, what we all share. The music on Maghreb United is the past with now and the future with now. I'm trying to weave threads from folklore and mythology into futurism. And I'm not necessarily projecting a positive image; from all we can see, things aren't going in the right direction. What I hope is that it will raise an alarm."
Yet there's also plenty of hope here. With singers from Algeria, Tunisia, and Morocco, songs from the Targ, Gnawa, and Raï histories, and a TR-808 alongside a distorted gumbri (Nassouli), gasba flute and zokra bagpipes (Lassaed Bougalmi), this is an album that reaches out to encompass the entire Maghreb area of North Africa.
"In the past the Maghreb was one huge region, yet very diverse within its borders. But today, the world keeps every person separated. The album isn't so much about a united Maghrebi region, but how we can connect while observing our differences – our differences are also our connection – and using them to unify as humans. This is an example of that." The choice of songs was also very deliberate for AMMAR 808, with nine of the ten cuts taken from the deep tradition.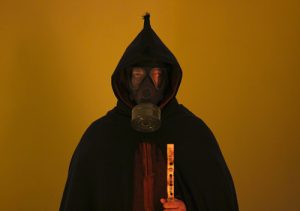 "It makes a difference when a song survives," he observes. "It has power. We all die, but a song lives on, it travels through time. I'm trying to pass it forward in a different shape, trying to predict the music in 10, 50, 100 years. Not today, but tomorrow. And if you understand what's important in the songs, you can use it to bring even more power to the tracks. I grew up with some of those songs; knowing them inside out gives a different perspective. It's an album that brings power and traditional music together."
The idea for Maghreb United (which is also the name for the album's performing group) has long been burning in AMMAR 808, but it burst into flame after the musician and producer met all the singers on his regular trips in the region, before returning home to start building the tracks.
"The recording itself didn't take long; everyone involved is very professional. The production took much longer. I ended up with 25 tracks, and I had to pare it down to the one idea that connected them all."
The deep, rumbling growl of the gumbri, the dry, airy tenderness of the gasba, and the softly slithering zokra give a powerful North African root to the music, a thread that spins back through centuries. And
the singers burn with fire and grace and passion on lyrics like 'Tonight our happiness will be complete/Tonight our energy will be complete' (Layli). But it's the TR-808 that's at the heart of Maghreb United and sends it spiraling into the future.
"As soon as you put on distortion, filters, samples, the 808 can shape the sound any way you want," AMMAR 808 points out. It's a sound shifter, another sense of the future now. "I'm a big science fiction fan; I dream about it. This project is a way to try and build a possible understanding of the world and the musical identity of the world today. It puts everything in a futuristic frame that opens ways to reflect on the present. Experimenting is my way of doing things, and this project is an experiment about a possible future through music and video. Not what will happen, but one possible outcome."
AMMAR 808 intends Maghreb United to be a completely immersive experience, something that will carry over into the live shows.
"We'll be accompanied by a VJ," he says. "We've worked with a team of visual researchers, designers and actors to create a vision, to give the audience a total experience in real time, with everything coming together. The music is quite brutal live, all that bass and heaviness, and it's not all pre-programmed. I can switch on the fly and go in any direction, we can change arrangements just by looking at each other."
Things can change in the blink of an eye. In life as well as music. "When you talk about today's problems," Ammar 808 says, "it's already too late. People talk about what should be, when you need to project about the future." And with Maghreb United, that's exactly what AMMAR 808 does. It's the great reinvention of a region's music. It's a call to action. It's the future, right now.
NMR (photo: Sia Rosenberg)