LUMP – LUMP (DEAD OCEANS 2018)
LUMP was born of good timing and predestined compatibility. It began one night in mid-June 2016, when Mike Lindsay – founding member of Tunng and Throws, and a prolific, Mercury prize-winning producer – was introduced to Grammy-nominated, Brit award-winning singer-songwriter Laura Marling after her show supporting Neil Young in London. On meeting, Lindsay and Marling discovered they had long been admirers of each other's work.
Lindsay had been busy for some months composing an intricate, ambitious new sound cycle. His compositional style had evolved over the course of years of musical experimentation with Tunng, and during his time spent producing other people's records while living in Iceland. He had arrived at a remarkably visual, colourful sound – a heady blend of wonked-out guitars, Moog synths and pattering drums, set against droning, coiling clouds of flutes and voices.
With the project in need of a lyricist and vocalist, Lindsay and Marling's meeting of minds seemed all the more fortuitous. He quickly invited her to step into his world, and a few days later they retreated into his subterranean London studio in order to unite their energies and create LUMP.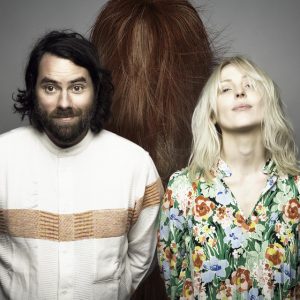 That world turned out to be somewhere Marling felt instinctively at home. Inspired by early-20th-century Surrealism and the absurdist poetry of Edward Lear and Ivor Cutler, she wanted to slice through the apparent emptiness of contemporary life. Her resulting creation is a bizarre but compelling narrative about the commodification of curated public personas, the mundane absurdity of individualism, and the lengths we go to escape our own meaninglessness.
Perhaps the most direct manifestation of the album's concept is its central song, Curse of the Contemporary. A steady, pulsing bassline divines a road snaking off towards the horizon -– a sense of gazing out of a car window as mountains and palm trees rush by. Marling begins: "If you should be bored in California / I'm sure I'm not the first to warn you," and as the song goes on, her words drip with ever more cynicism for the new age: "We salute the sun / Because when the day is done / We can't believe what we've become / Something else to prey upon."
Elsewhere, opening track Late to the Flight tells of a man dreaming about his own death – or perhaps the death of his carefully curated persona – after being advised not to dress in a manner he might regret: "Don't wear your smiley face T-shirt tonight."

The composers are keen to stress that LUMP is a creation that passed through them, and they look upon it parentally. It is their understanding that, now it has come into being, LUMP is the artist, and it will continue to create itself from here on. Lindsay and Marling will assist it as necessary.
NMR (photo: press)