Mariana Degani - Furtacor (Tratore , 2016)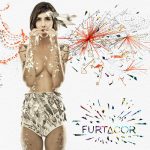 Singer-songwriter Mariana Degani combines visual inspiration with tropical and urban references, underlined by distinct vocals. lt's Brazilian organic music with electronic bits and a fresh flavor.
Since 2002 she's been developing costumes. scenarios. objects and accessories for fashion and arts. At the same time, as lead vocalist with Loungetude46, a São Paulo band, she recorded 2 albums and toured Brazil and Europe.
Mariana's debut solo album FURTACOR was released in March 2016, produced by Remi Chatain. The album release show happened in the important venue Auditório lbirapuera in São Paulo in November.
Recorded between 2014-2015. the album features members of Trupe Chá de Boldo. Araticum and Loungetude46. From the Copan Studio, Victor Rice worked on the final mix and Grant Phabao from Paris DJ's, put the final touches.
Acclaimed photographer Jorge Bispo snapped the album cover. and the inner sleeve is a compilation of layers of drawings, photos, paint, embroidery and textures – the artist's own notebook – who also worked on the overall visual.
In 2014 and 2015 she's toured FURTACOR in France, Spain and Portugal. In 2016. Remi and Mariana transformed a yellow Volkswagen van into a mobile house/studio and named it AMARilda. With AMARilda, the duo spent 2 months playing in festivals, theaters, public squares and spaces that have been occupied by artists as a social and political resistance.
On her debut album. Mariana sings her synesthetic universe. lnspired by dlfferent panoramas. she uses the symbolism of colors, birds, nature and urban scenarios to make poetry about life, love and social criticism. The visual work comes in video projection to the stage like a window, where different landscapes open and take the audience on a journey.