MEKLIT – WHEN THE PEOPLE MOVE, THE MUSIC MOVES TOO (SIX DEGREES 2017)
There are many well-appointed rooms in the mansion that is Meklit, and her breathtaking new album sounds at home in every one. The Ethiopia-born Oakland-based artist has belted "Cold Sweat" with James Brown saxophonist Pee Wee Ellis, cofounded the visionary pan-African Nile Project ensemble, and lectures widely about liminal identities as a TED Senior Fellow.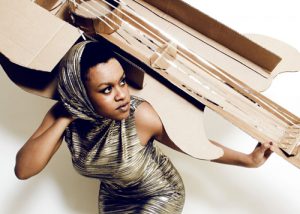 Along the way she's released a series of disparate recordings documenting her evolution as a songwriter, vocalist and bandleader. When the People Move, the Music Moves Too, slated for June 23, 2017 release on Six Degrees Records, reveals her startlingly beautiful new sound that seamlessly merges East Africa and the African diaspora via an intimate, rhythmically charged body of songs recorded in Addis Ababa, Los Angeles, New Orleans and San Francisco. A collaboration with Grammy Award-winning songwriter and producer Dan Wilson (Adele, Dixie Chicks, Taylor Swift), the album is built on Meklit's jazz-steeped working-band featuring bassist Sam Bevan, drummer Colin Douglas, and Marco Peris Coppola on tupan drum. Meklit accompanies her translucent, soul-sated vocals on guitar and the six-string krar, an Ethiopian lyre, while Howard Wiley provides pleasingly pungent counterpoint on tenor and baritone saxophones.
"In the past what's happened is that every song or album has taken more weight from one set of influences," Meklit says. "On We Are Alive one song is more singer/songwriter, one is more jazz, and one is more Ethiopian. Meklit and Quinn is about singer/songwriters. The Nile Project is more East African. But on this album it's all there. I finally understood how to bring every influence into every song."
Photo: Ibra Acke