Otros Aires - Perfect Tango (Galileo Music Communication, 2016)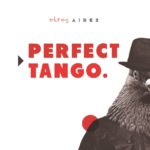 Otros Aires is a XXI s Century audiovisual TANGO (Electrotango, Neotango, Tango Nuevo, Fusion) project created, produced and directed by the Argentinean musician & architect Miguel Di Genova. It was made between Barcelona and Buenos Aires ports in 2003.
This project counts with many collaborators like: Diego Ramos (Piano & arragements), Lalo zanelli (Piano), Martin Bruhn (Drums), Martin Paladino (Drums), Manu Mayol (Drums & production) Pablo Potenzoni (Drums), Christian Maturano (Drums), Carlos Ocorso (Percussion), Hugo Satorre (Bandoneon), Lisandre Donoso (bandoneon), Emmanuel Trifilio (bandoneon), Joe Power (Harmonica), Nick Wadlew (Cover Drawings), Marcelo Sofia (Cover Arts), Charly Fiorentino (Cover Arts) Miru Trigo (Photography) and Santiago Saponi (Video Director) between others.
It has 12 years of career, 4 studio albums, 1 live album, a documentary DVD and more than 30 tours around Europe, North America and South America.