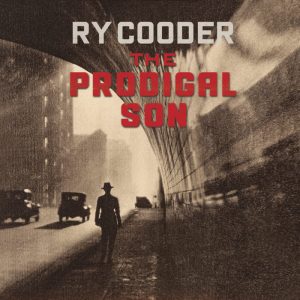 RY COODER – THE PRODIGAL SON (FANTASY, 2018)
After Ry Cooder issued 2012's bitingly observant Election Special with its indictments of the GOP, Mitt Romney, and the Koch Brothers in a meld of sounds that included folk, blues, and roots rock, fans wondered where, if anyplace, he'd go next. But he was silent. Prodigal Son, his debut album for Fantasy, takes him back to the beginning when he recorded old blues, gospel, folk, and swing tunes that reflected the musical past as illumination for the historical present. Co-produced with son Joachim — who also contributes drums and percussion — Cooder takes control; he plays guitars, bass, banjo, mandolin, and keyboards in a program of eight covers and three fine originals.
He opens with an intimate version of the Pilgrim Travelers' 1950s gospel hit "Straight Street." With banjo and mandolin buoyed by his electric guitar fills and Joachim's snare, Cooder presents evidence of his protagonist's difficulties living "…on Broadway right next to the liar's house…." before finding solace in God's light. The backing chorus (featuring the late Terry Evans) slips and sways, underscoring every syllable. Cooder doesn't need to testify vocally, the lyrics and his guitar do that. "Shrinking Man" is an original filled with poignant metaphor set to a raucous, bluesy country stomp delivered in electric jug band style. The original "Gentrification" offers biting social satire adorned with layers of acoustic and electric guitars played in Nigerian hi-life style with kalimba, bells, and whistles; its humorous lyrics are rife with the truth. Cooder's readings of Blind Willie Johnson's "Everybody Ought to
Treat a Stranger Right" and "Nobody's Fault But Mine" resonate with conviction and gritty determination. Alfred Reed's hymn "You Must Unload" features Robert Francis Commagere on bass and Aubrey Haynie on violin. They color his prophetic vocal in calling the powerful, greedy, and decadent to account. The title cut is traditional. Cooder renders it a grimy, electric, country blues — complete with an homage to country legend Ralph Mooney's pedal steel guitar playing. Banjo, mandolin, and snares create a frame for Blind Roosevelt Graves' strident "I'll Be Rested When the Roll Is Called," while Carter Stanley's "Harbor of Love" has been recontextualized as a gently soulful, painterly, country-gospel tune.
Cooder's own "Jesus and Woody" is a tender allegory sung from the former's viewpoint as he requests the legendary folksinger to sit and play for him as he reflects on sin, fascism, and the dream of a better world. This would have been a great place to stop, but Cooder has another rocker to deliver in the traditional church stomper "In His Care," where crisscrossing rhythms and gospel strut meet rebellious roots rock & roll. His reliance on gospel here illuminates his commitment to equality. Prodigal Son is yet another act of committed intention from one of American music's greatest guardians and purveyors. In its grain, aesthetic pleasure and the will for justice converse and ultimately convince the rest of us to act.
NMR (photo: archive)